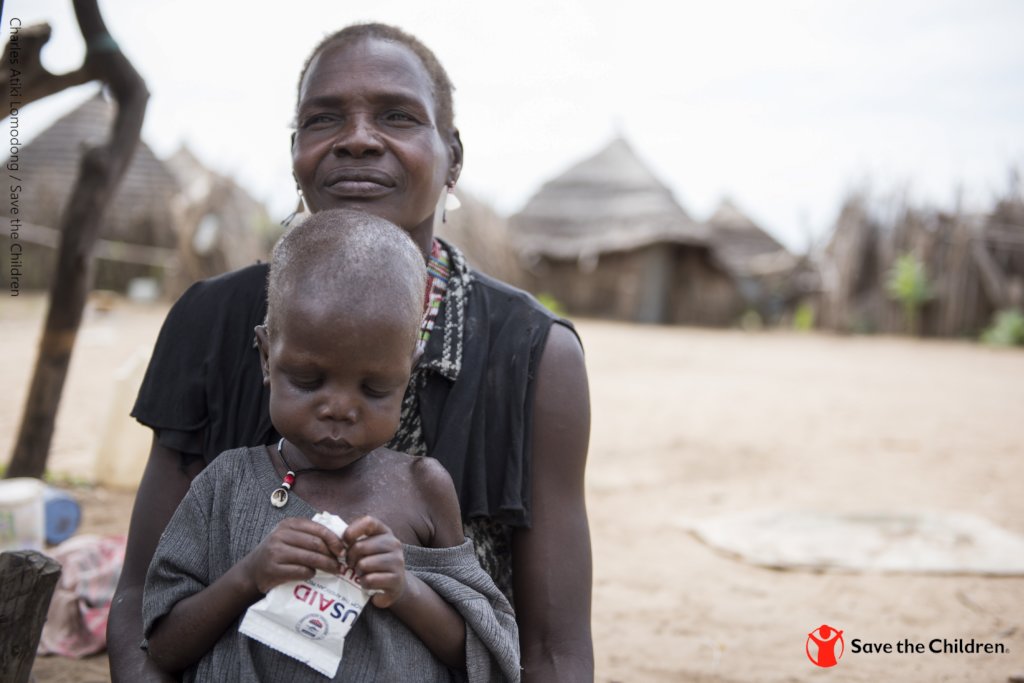 Lukan* was brought to the Save the Children stabilization center in Kapoeta by his mother when he became ill. He was not able to move or play with his friends or siblings because he was drowsy, suffered joint pain due to lack of food. He was suffering from malnourishment because at home the only food available to eat is wild fruits and boiled sorghum.
His mother is a farmer and his father is a cattle keeper but none of their activities could help feed Lukan* and the family. Drought, pests (birds) and excessive weeds destroy their sorghum and they have little or nothing to harvest at the end of the season for the last four years.
They eat once a day and that is none other than boiled sorghum - the only substitute is wild fruit and leaves. The family have to sleep hungry some days. With this, Lukan* developed a swelling, on his cheek, legs, feet, and hands due to lack of protein and accumulation of excessive fluid in the tissue. The skin on his body started to crack and he was diagnosed with Oedema, usually associated with low protein levels in the blood.
After realizing Lukan's* condition was worsening, his mother took him to Save the Children Primary Health Care/Stabilization Centre. He was put on a course of therapeutic food; milk and nutritious peanut paste and given medical treatment. After a week, his body started to peel removing the swollen skin known as oedema. He started to recover and was discharged home.

Now at home Lukan* is fine, he plays with his other brothers and sisters and his skin has recovered.
"I am happy because my child is now fine. The sickness has gone away", Lukan's* mother says.
Thanks to your support, Save the Children is on the ground now, providing lifesaving support to children and families in response to this devastating food crisis. Our priority is to reach children under age 5, who are less able to withstand malnutrition and are more susceptible to disease.
Our teams are screening children for malnutrition, running feeding programs and treating malnourished children in specialized health centers. We're also providing clean water, addressing sanitation and hygiene to prevent diseases from spreading and providing support to families who've lost everything. See our latest fact sheet for more information. Thank you for supporting this important work!
*Name has been changed to protect privacy.