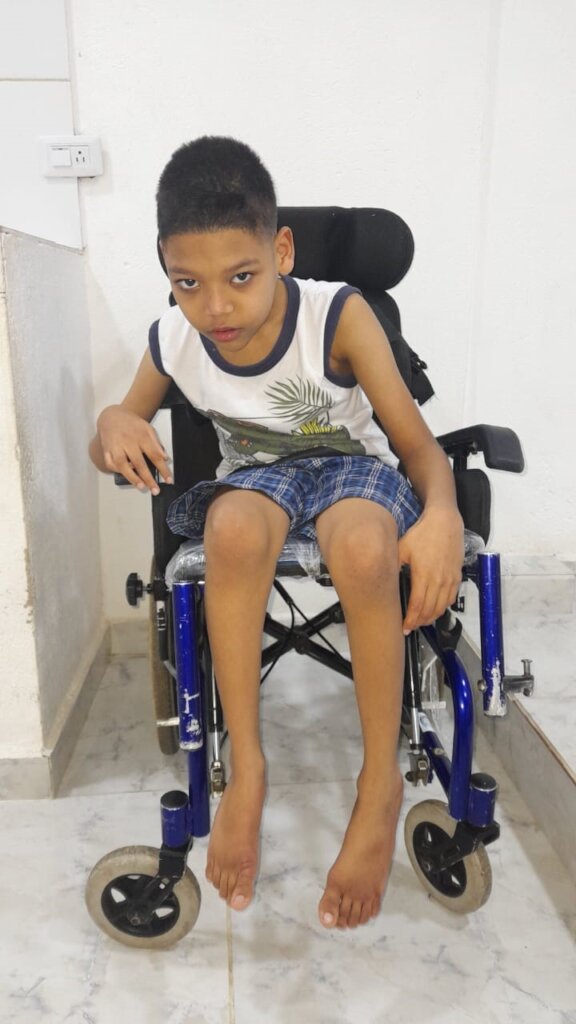 Ana, says that when her son Greiber was born and as the days went by, she began to notice that he was not developing as babies usually do, it was difficult for him to move, raise his head and general muscle weakness, after several exams and visits regular visits to specialists Greiber was diagnosed with cerebral palsy and seizures, which cause a series of disorders that affect movement, balance and posture.
This condition prevents Greiber from speaking, walking, and performing daily activities, for which he requires continuous therapy and treatment to improve his quality of life. For this reason, Ana and her family migrated to Colombia from Venezuela in search of better health opportunities for him.
At the age of 9 and based in the municipality of Medellín in Colombia, through an institution, Greiber entered the Fundación Patronato and since then it has been possible to continue with his treatment and receive specialized consultations in pediatric neurology, endocrinology, physical therapy, orthopedics, occupational therapy, speech therapy and purchasing a wheelchair that has made getting around easier for his mother and family.
Thanks to this support and comprehensive care, Greiber has shown great progress in her treatments, she looks happier and a smile appears on her face when she listens to music, plays educational games in bright colors and caress her pet.
At the Fundación Patronato we celebrate Greiber progress and we believe that his treatment will provide him with great advances to lead a more independent life. With your help we can continue to support Greiber in his therapies and together change the life of a Venezuelan family in search of better opportunities.
Links: