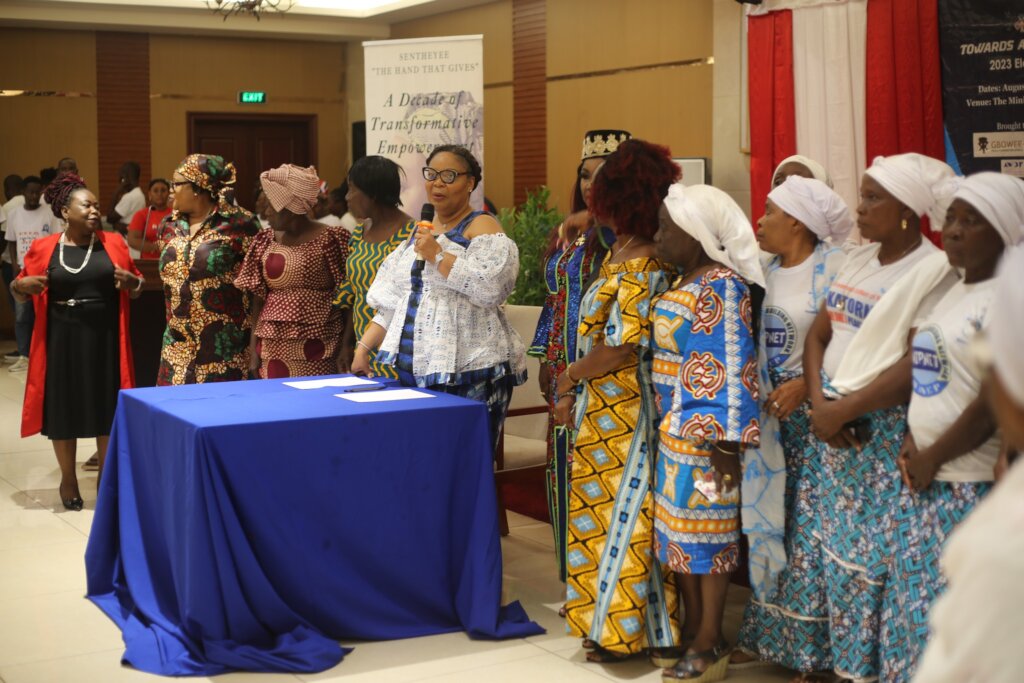 1.0 Education for Peace and Development
We are celebrating nine local university(students) who have been added to our hall of fame.
Gbowee Peace Foundation Africa's 360-degree approach to education continues to impact the lives of our students. GPFA's 360-degree support to students means that the Programs Team ensures that each student's housing, food, school supplies and uniforms, and health care is taken care of, as well as transporting students from their home communities to their school or university.
On June 24, 2023, four students graduated from Cuttington University with Bachelor degrees in Environmental Science, Biology, Agriculture and Management. On August 25, 2023, three students graduated from Stella Maris Polytechnic University with Bachelor degree in Civil Engineering, Bachelor degree in Biology and one student with Associate of Science degree in Building Construction Technology.
2.0 Transformative Leadership Initiatives (TLI)
TLI is one of GPFA's core priority focus areas aimed at developing a generation of young African leaders committed to democracy and the peaceful transformation of their communities. Under TLI, GPFA hosted its "Godly Gentlemen Academy (GGA) Cohort One. A Summer Camp for 17 of its High School Scholars. The camp provided three days of teaching and mentoring opportunities for young boys to be morally upright and disciplined in their behavior and among their peers. The Godly Gentlemen Academy (GGA) aims to equip young boys with the tools and mindset to navigate their personal, professional, and societal barriers successfully.
The boys also had an opportunity to learn practical skills, including serving their community through community clean-up activities "Essential lessons, such as emotional and social self-regulation, as well as practical skills, such as tying a tie, need to be part of their daily lives," she Madam Leymah.
3.0 Driving Innovation through Community Empowerment
The strategic objective of Driving Innovations through Community Empowerment (DICE) is to empower local communities and improve women's participation in private and public decision-making. Under DICE, highlighted three events.
3.1 We continued our Sustain the Peace Campaign with our "Peaceful Tuesday events.
On May 23, 2023, Gbowee Peace Foundation Africa (GPFA) made another remarkable impact during its Peaceful Tuesday awareness in Paynesville City, District #6, specifically the GSA Road Community, LBS Community, YMCA Community, and ELWA Junction Market informing the populace about the importance of sustaining the peace for the upcoming 2023 General Elections.
Since then, we have created awareness to promote peace and avoid violence in 15 of the 17 electoral districts of Montserrado County which has the largest number of voters in Liberia.
3.2 During our last reporting period, we mentioned our Feminist Policy Lab. We climaxed with our Lessons Learned Summit on July 7, 2023 that highlighted three research topics:
SEXUAL HARASSMENT IN THE EDUCATIONAL SYSTEM OF LIBERIA.
THE LUXURY OF MATERNAL HEALTH: LIBERIAN HOSPITALS ARE A NEW MOTHER'S PRISON.
FEMALE INMATES ACCESS TO REHABILITATION AND PROPER HEALTHCARE.
We intend that these research findings will influence Liberian Government's Policies.
3.3 On August 4 & 7, 2023, two consultations with the women of Liberia themed: "Towards A Peaceful 2023 - Liberian Women's Manifesto for Peace" Summit. This was climaxed by the signing of the Liberian Women's Manifesto for Peace on August 17, 2023.
September 1, 2023, marked the beginning of the popularization of the Women's Manifesto for Peace through the unveiling of two billboards in Monrovia with the inscription: "Don't Touch Our Peace." This message calls on Political Parties, Partisans, the Youth, and all Liberians to please "Sustain the Peace."
WITH YOUR CONTINUOUS SUPPORT, WE ARE ABLE TO CONTINUE WHAT WE ARE DOING.
THANK YOU SO MUCH!