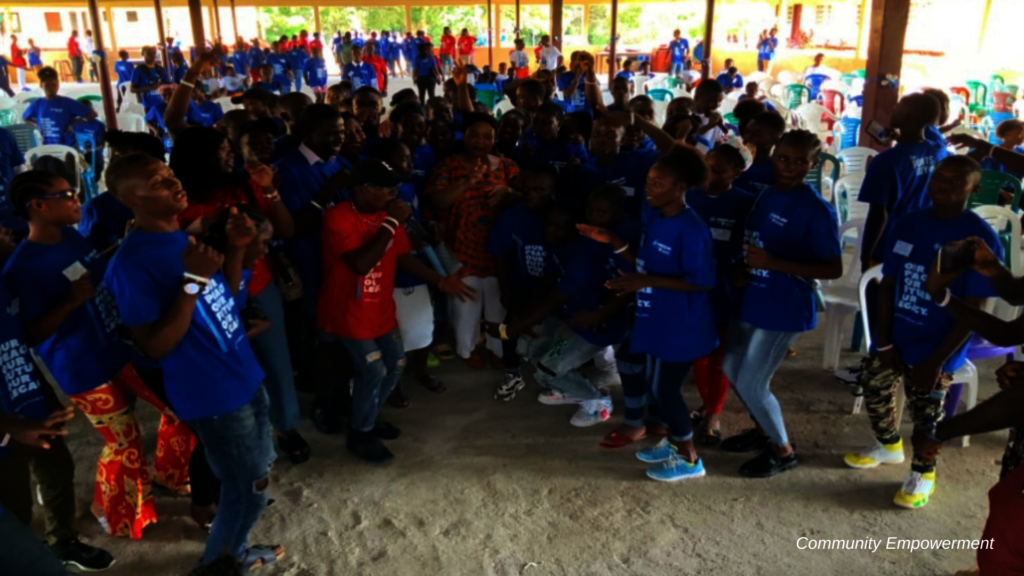 Making Youth Realize their Dreams
Introduction
A few months ago, GPFA launched its "Dollar for Peace Campaign" hoping that with the support of generous donors, we could provide 200 scholars with quality education and leadership training.
We have entered 2023 with even more optimism that even though we have not reached our targeted goal, this year will be a year to celebrate as we look beyond our ten years of existence since our founding in 2012. We continue to fulfill our mission through our three priority investment areas of intervention.
Because of your generous supporters like you, we have provided over 948 direct scholarships to women and youth as of December 31, 2022
1. Education for Peace and Development
A. Scholarships
Between September 17, 2022, and January 4, 2023, we have awarded full scholarships to 14 students. 13 of those students are in Universities while one of them is in high school.
Ten of those students were awarded on the same day, on October 14, 2022. They came from several colleges and universities in Montserrado County (Stella Maris Polytechnic University, African Methodist Episcopal University, United Methodist University, Liberia Baptist Theological Seminary, Monrovia Bible College, and Bong County (Cuttington University).
B. Internship
In addition to full scholarships (from the beginning of the scholarship through graduation), that GPFA provides to its recipients, it also grants and arranges internship opportunities for its university students with partner organizations. This program seeks to provide an opportunity for on-the-job experience and to serve as a means for young people to give back to their communities.
This year, GPFA provided internship opportunities to 29 University scholars. These scholars served in different communities in Bong, Lofa, and Montserrado counties, and each of them received a stipend of $100 at the end of the one-month internship
C. Graduates
We celebrated five graduates in the space of three months, four with Bachelor's degrees and one with a Diploma. Claudius was one of the graduates. He was the highest-performing graduate with a 3.98 GPA from BlueCrest University in Monrovia with a Bachelor of Science degree in Information & Technology.
2. Transformative Leadership Initiatives
A. 10th International Day of the Girl Child
On October 11, 2022, the GPFA celebrated the 10th International Day of the Girl Child at the Christian Community Institute with about 60 female students and GPFA female staff and scholarship students who served as volunteers. The theme for this year was: It's Her Time- Listen to her; Let Her Speak. The day began with a grand march and climaxed with an indoor program where the following topics were presented commemorating the day: The Rights and Responsibilities of a Girl Child
Being a Peace Advocate
Health & Bodily Integrity
Moments of Inspiration---- Navigating towards Success
B. PeaceJam Liberia Annual Youth Leadership Conference
PeaceJam Liberia hosted its Annual Youth Leadership Conference to give students the opportunity to share, learn, and be inspired by a world leader for peace. Our very own Nobel Peace Laureate Leymah Gbowee passed on the spirit of peace and hope to our young people. This year's Youth Leadership Conference was held under the theme "Our Peace, Our Future, Our Legacy" from December 1st through December 4th, 2022. 340 people participated including PeaceJammers, Mentors, Adult Advisors, GPFA staff, and Guests from 22 schools and clubs. Nobel Peace Laureate Leymah Gbowee closed the ceremony with a word of inspiration "Never Give Up".
3. Driving Innovation through Community Empowerment
Sixteen Days of Activism
Sixteen Days of Activism against women and children (November 25-December 10) is an annual awareness activity at the Gbowee Peace Foundation Africa (GPFA) and around the globe. Our 2022 activism centered on the theme "Femicide" saw our youth conducting extensive awareness in Bong County targeting men, women, and children.
More men were targeted because most perpetrators are male and needed to be educated and encouraged to join the campaign to protect their sisters and mothers. Some women were engaged as they were survivors; whereas children were spoken to during the campaign because they needed to be aware that all forms of violence against women/girls are crimes.
The campaign was carried out through several activities such as:
Grand Launch, High School Outreach, Community Engagement Talk Show, An Evening with the Boys, Umbrella Discussion, The Walk-A-Mile-In-Her-Shoes campaign and Say Her Name- Tribute to our fallen soldiers (mothers).

Thank you to all donors and supporters. We couldn't do this work without you. Thank you for your commitment to raising the next generation of peacebuilders and democratic leaders for Liberia and for the world!