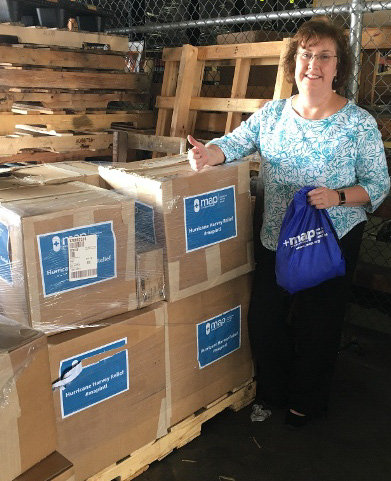 Hurricane Harvey devastated the Texas coast over seven weeks ago severely impacting Houston and surrounding areas. Since Harvey made landfall, victims of flooding in Texas have benefitted from more than $1 million in relief supplies provided by MAP International. More than 2500 who were flooded out of their homes received a signature MAP Disaster Health Kit (DHK) which contain antiseptic wipes soap, toothbrush, toothpaste and other essential items to help prevent the spread of disease and illness. Each kit was designed to meet the needs of one person living in a shelter for one week.
A church in Humble, Texas described the assistance they received from MAP International with our local partner, Convoy of Hope one month ago:
Since the flooding began, our team from Grace Church of Humble, Texas has been working 12-14 hour days coordinating up to 3,000 meals a day for people in the hardest hit communities. Our local church even served as a shelter for four days.
Today, Convoy of Hope delivered two pallets of MAP International Disaster Health Kits (DHK) to Grace Church's warehouse. These supplies are such a blessing to those who are suffering through this disaster. Please let MAP supporters know how much this is appreciated.
We are taking MAP's DHK supply and an 18-wheeler full of bottled water to a neighborhood whose water system failed during the flood. Sadly, it has not been brought back up. We will also deliver a portion of this large truckload to a rural town that has received very little help. There is so much to do.
The city and the region around us have been flooded with not only rain but an even greater portion of God's love and the love of our fellow Texans, Americans, and Canadians. It has me close to tears at times to see everyone rally behind us.
MAP International plans to deliver 500 more Disaster Health Kits to those still affected by flooding in Texas. These kits will be included within a large 40-foot truckload of general relief supplies. Please consider a donation to continue to provide Disaster Health Kits to Harvey survivors who are still recovering from this disastrous hurricane.
Links: