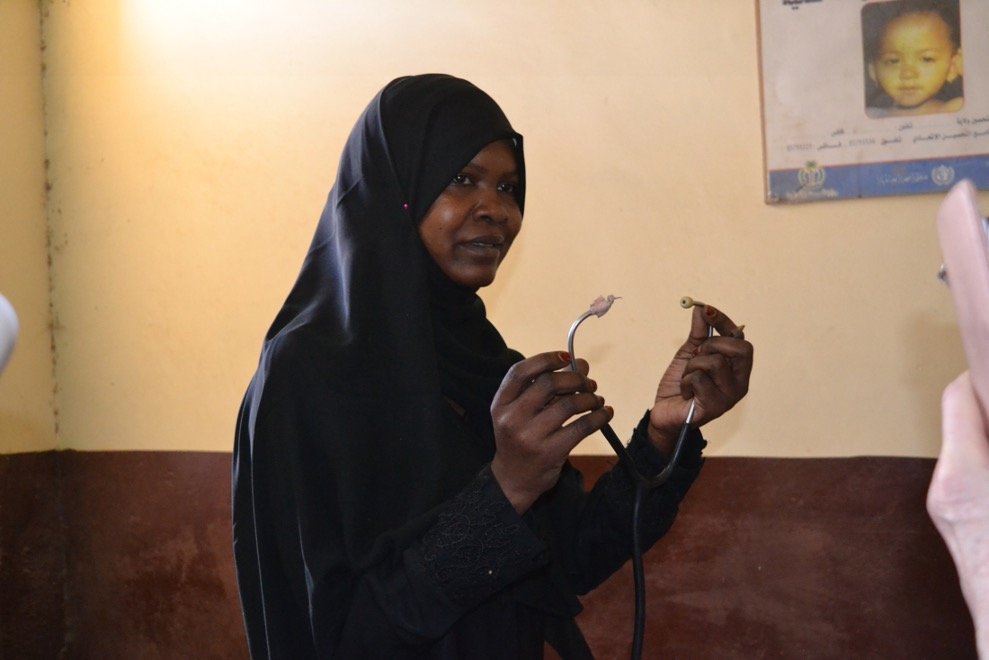 The lack of healthcare in Darfur, Sudan is a constant threat, especially to children and pregnant mothers. The most vulnerable members of these communities are the ones that suffer the most when a crisis hits. In the villages of North Darfur there is no health care. If you cannot get to the regional capital El Fasher where there is a hospital then you go to Mallit - often many miles across the sand. When our Founder, Patricia Parker OBE, visited Mallit Hospital last year she was shocked to see that conditions had not improved since she had last been able to visit, over ten years before. There is still no oxygen and no ventilators - essentials for anyone suffering the worst effects of Covid-19. The photograph is of the doctor in the hospital showing her only pair of stethoscopes - badly damaged.
There are no vaccinations for anyone in villages and Covid is in its third wave in Sudan. That is why your help has been so crucial, not just in providing the soap urgently needed for washing hands but that small contribution to us, gives hope to mothers who have felt helpless as the 'mystery disease' has taken friend after friend.
In the UK, we've had nearly a year of lockdown - the virus is relentless, but the introduction of mass vaccinations has helped ease the pressure and death rate. In Darfur, there is no NHS that will support these communities in fighting the endless battle against Covid 19. The people of Darfur rely on their midwives and first-aid workers to educate them on how to stay safe. Miles away from any hospital and next to no access to medicines or medical equipment, these villages have been left behind to fight the pandemic on their own.
Our Midwives and First-Aid workers play an enormous role in fighting the pandemic, they help villagers tackle the enormous challenges of addressing the health impact of Covid-19. They are trained in Sudan to help their communities and prevent the spread of the virus even more.
Without the support of Kids for Kids and our donations to the cause, these Midwives and First-Aid workers wouldn't be able to train. It costs Kids for Kids £400 to train a First-Aid worker, these members of the community prevent a minor problem from becoming a catastrophe.
Our support staff can educate and inform villages about the importance of washing hands often to prevent the spread, and about maintaining distance. As the First-Aid workers are part of the villages, they are there to offer full-time support to those in need.
Support a village today in providing what is so desperately needed during this pandemic. The support of a First-aid worker or Midwife can change the lives of the vulnerable during this pandemic - help today and save lives.