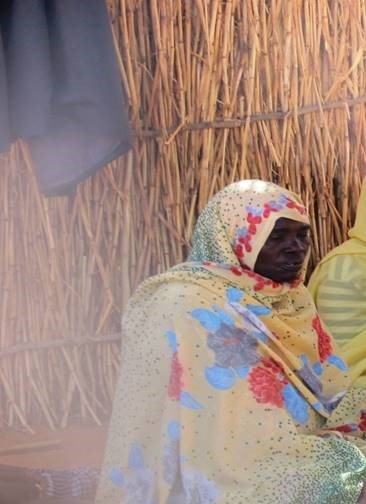 Eyewitness report - how goats save lives in Darfur
It has been a difficult start to 2016, with many thousands of children in Darfur facing starvation. As you know, Kids for Kids has a lot to do. However, where help is being given, it is really working. Our Programme Manager Hassan has just returned from a field trip to the village of Kindro in Darfur. This village was adopted by Kids for Kids in 2013 and he has just been there to witness and report back on their first Goat Loan rotation. Beneficiaries who had Kids for Kids Goat Loans two years ago have now passed on new goats to the next families. Every family's story is unique, touching and inspiring in its own way. Here is one of them:
"Hadiya is 42 years old, married, and has 6 children." reports Hassan. "In September 2013 hers was one of the poorest families in Kindro, and she was selected by the Animal Loans Committee to participate in the Kids for Kids projects. Her family received a Goat Loan, a donkey, 2 blankets and 2 mosquito nets. This was a unique opportunity for her to lift the whole family out of poverty and I am delighted to report that she and her children have worked hard to make the most of it."
Over the past two years Hadya has built a big rakouba to be used as a shade in summer and the roof for keeping hay and dry fodder. She has been using mineral salt lick and providing water every day to keep the goats healthy. Paravet Addouma treats her goats when needed and reports that she has provided medication 6 times in the past 2 years. Eldest son Mohammed helps Hadya to look after the goats. Hadya uses the goats' milk to feed her children and to make sauce. After repaying the Goat Loan Hadya wants to sell her extra bucks and buy a donkey cart. Last year she used the local donkey plough, successfully producing a good harvest of okra, sesame and melons that earned about 1800 SDGs to help feed, clothe and cover emergency expenses for the family.
"The past two years have changed our lives" Hadya said. "Before this help from Kids for Kids I was praying for a miracle even to feed my children. They were so weak, I was truly afraid. Now I have the blankets and mosquitos to protect them from getting sick, and the goats milk to make them stronger. I have worked hard and built up a little flock of 20 goats, and I believe that I can give my children a better future."
This is a total transformation since the family was struggling to survive 2 years ago. And remember - she is now repaying the Goat Loan by passing on healthy young goats to a new family for a new loan, so this miracle will happen all over again. Thank you for being a part of this incredible work.
$62 provides a goat for nutricious milk to stop starvation
$95 provides a donkey to carry water and firewood
$372 provides 6 goats for a mother to give her family a livelihood
$600 trains a paravet to keep the animals healthy
Thank you for your support. You are saving lives in Darfur.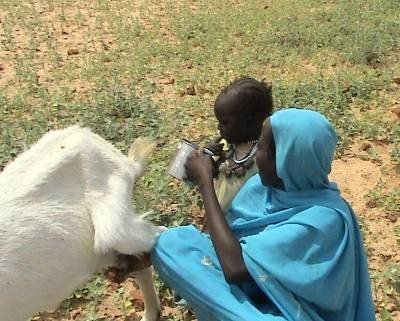 Links: