Project Report

| Apr 15, 2015
It's not just goats - donkeys are invaluable too.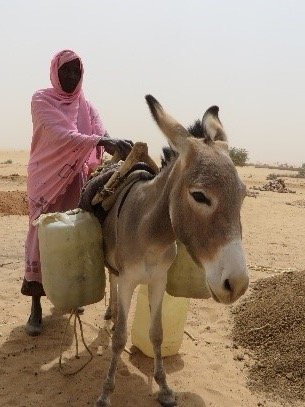 It's not just goats – donkeys are invaluable too.
Aasha (name changed) had no animals and was too old and frail to grow her own crops. She is the sole support of her 4 grandchildren. "It took me 4 days to collect a donkey load of firewood and then a day to sell it in the IDP camp. 5 days work raised $2.20 but I had to give half to the owner of the donkey. That is all I had for everything. My grandchildren were fading before my eyes". She was doing her very best, but with no other income she was trapped in a desperate cycle of poverty, trying to sustain her family on just $1.10 a week. "I didn't think I would find her again" said Patricia our CEO.
Thanks to your donations, Kids for Kids changed all this when we adopted her village. Aasha and the poorest 15% of families in her village have received help, in her case her own little donkey. For Aasha this is truly a lifeline, and she could not be happier. She was eager to tell Patricia how life-changing this is when she returned to inspect a handpump. "My life is transformed. I no longer have to pay to hire a donkey, and I can even hire him out to others to use, and I make sure he is well looked after. I can feed my grandchildren. I am no longer frightened I will lose them too. So many children die here. " Aasha and her grandchildren have new hope for the future. Thank you for making this possible.
Kids for Kids has adopted 70 vilages so far, and we would love to adopt 5 more in 2015. With your help we can bring these simple, life changing projects to more communities in desperate need. Will you support them now?
Thank you for your help!
$45 Provides training so that people care for their animals properly (we always train beneficiaries before they receive animals into their care)
$62 buys a goat to provide milk for hungry children
$95 buys a little donkey to carry water, or firewood, to help people like Aasha earn a living
$372 buys 6 goats to provide a family with milk and a chance of an income, and their offspring help another family in 2 years time
$600 provides a paravet - there is no other veterinary care in Darfur
Every penny goes a long way in Darfur. Thank you!
Links: