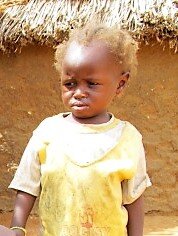 Child starvation is a real threat today in remote villages in Darfur.
Our hearts go out to the Ukraine at this terrible time but, in Sudan, life is also a real struggle, the country is on its knees.
Food prices are soaring due to renewed conflict, failed harvests and economic crisis.
A small loaf of bread is more than a month's income. Families are living off one scant meal a day. Children will die without help.
But the villages are out of sight, the children forgotten.
Very little is publicized about their desperate situation.
But we can help, we can make a lasting difference. Goat's milk transforms children's health & chickens provide eggs for the frail elderly.
We are so grateful to all your donations to help us save lives - but there is still so much more to be done.
Kids for Kids provide Goat Loans to families in Darfur - 5 Nanny Goats are lent to the poorest families in villages we adopt so that protein-rich milk can be fed to children to stave off malnutrition.
After 2 years, 5 Nanny Goats are passed on to another poor family to benefit, and so the sustainable cycle continues.
Goats are too much for an older person to manage, so we provide chickens - easy to look after and their eggs are nutritious.
This is the best microfinance scheme in the World.
Short term, you will be saving children from immediate malnutrition. Long term, excess goat's milk is sold to pay for children to go to school - the way out of poverty. Women are empowered with their own income for the first time. Grandparents are stronger and healthier, and contribute to their communities, passing on skills, wisdom and knowledge. The entire community will benefit and families can plan for the future.
Please can you donate a Goat today to help us save children from starvation and give families hope for the future?