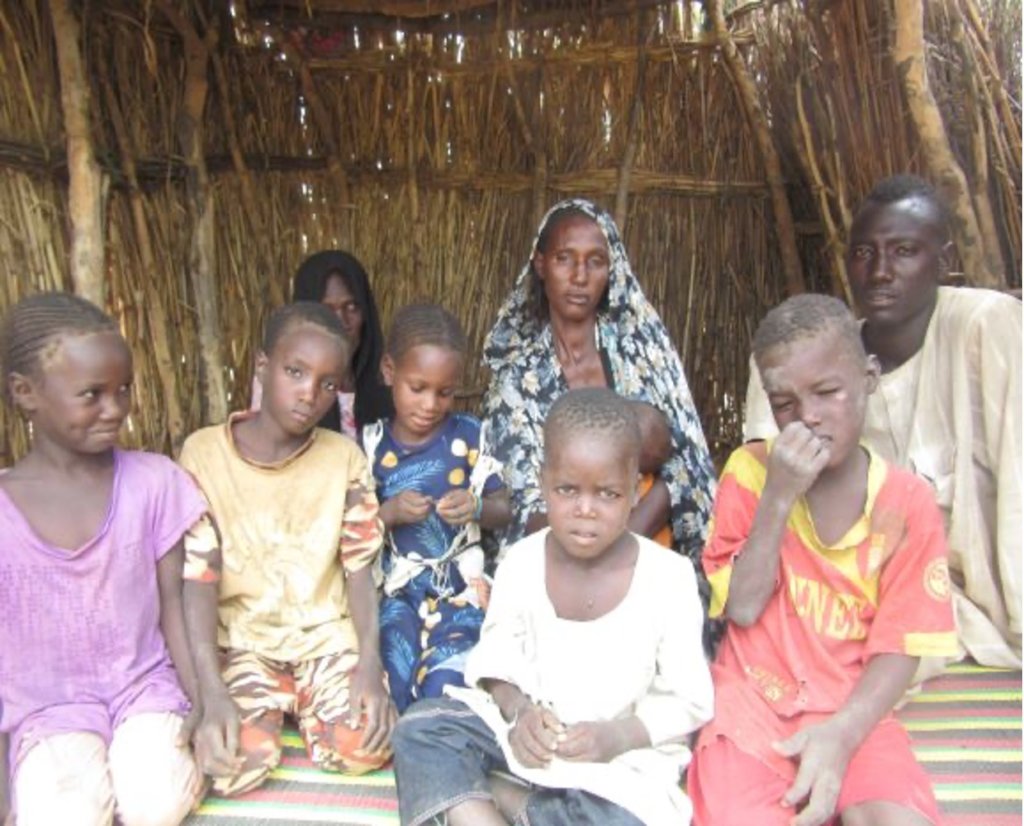 MAAGLA to receive goats at last. Helping the poorest of the poor not just to survive, but to have a better future.

Maagla is a large village for North Darfur, Sudan, with a population of 2,280. It was adopted by Kids for Kids this year and, as in all our villages, the community as a whole democratically selects the poorest families to benefit first from our projects. Key is the goat loan - Hawa age 35, was one of the first to be chosen and to receive five nanny goats. She is divorced, with 10 children, two of them under 5 years old. Her elderly mother lives with her in their straw hut. Her eldest son has had to leave school in order to search for work to help the family. For months now they have survived on one meagre meal a day. There is just one single bed made of wood and rope and virtually nothing else - just two cooking pots and three dishes. Hawa has no farmland of her own - so the family cannot grow their own crops. She owns no animals. Without help, the family could not survive. Other villagers do their best to help, but they too have very little and have virtually nothing to spare.
The difference goats can make to Hawa's life is huge. The Kids for Kids' goat loan is providing five nanny goats to Hawa, and a local donkey. As soon as the goats give birth there will be milk for the children. As the flock grows Hawa will be able to slowly build up an income. Due to the lack of seed, her children may starve, the goat's milk provides vital nutrients to children in desperate need. Hawa will be able to earn a living by selling excess milk, this income can be used to send her children to school. The donkey Kids for Kids provides will help to lighten the burden of water collection and enable her to collect firewood which she can also sell. If a donkey dies there is no chance of a family affording to replace it so to be given a donkey is life changing. Donkeys are the only means of transport. If you don't have a donkey, the only alternative is to walk, often many miles across the desert for every drop of water - imagine the effect a donkey would have on Hawa. Kids for Kids also provides two blankets for the children, and two large mosquito nets. Malaria is still the biggest killer in Sudan. We also provide farm tools so that Hawa can get work on neighbours farms until she can get land of her own, and jerry cans. Where necessary we will provide emergency food and basic cooking utensils.
Without this help Hawa's life, and that of all her children, would be precarious indeed. Your help is enabling Kids for Kids to turn her life around. Hawa will be helped to care for her animals, our paravets will provide veterinary care whenever necessary and our first aid workers will provide basic health care. These are small initiatives but, combined, they lift families like Hawa's out of abject poverty and give a chance of a better future.
Reports like this from Darfur highlight the desperate need for goats and donkeys - with the help of our supporters, Kids for Kids can continue to provide sustainable aid to women like Hawa and her family. Goats and Donkeys change lives.