Meet Amina, a little girl from Um Jum Jum village. You can see by the color of her hair that she is malnourished, as her diet consists of no protein whatsoever. Her hair has been drained of its color because she has been eating mostly assida, made from sorghum - no milk, no meat: no protein in any form.
There are families like Amina's all over Darfur, families who don't have the income to buy healthy, nutrient-rich food and because of the famine this year, many are struggling to find anything at all to eat. Our projects provide help to the poorest in the communities. Many families are suffering with no crops with which to feed themselves and no animals to earn an income, they have run out of food. Anything you can do to help now would make it possible for us to provide seed, flour, and goats for goat's milk to ensure people do not starve before there is finally a harvest.
Every January we adopt new villages, deciding how many we can adopt based on the funds we have incoming. The more you give at this time leading up until the New Year, the more villages we will be able to adopt. We will never adopt a village if we do not have the funds to commit to providing our full range of sustainable grassroots projects to the poorest democratically elected 15% of families in that village. We support each new village for two years, until they are able to run the projects themselves. By donating for donkeys and goats right now, you will make it possible for us to accept more villages that come to us asking to be adopted. A Kids for Kids village is stronger and more able to withstand conditions in Darfur. As well as providing animals, we train villagers in veterinary care, and provide the poorest families with the essentials for life in Darfur. By training communities to democratically manage projects, from water and forestry to health care, we are transforming whole villages long term.
With the holiday season right around the corner, this is the perfect time to Give a Goat or Donkey on behalf of a loved one! Just one cup of goat's milk a day will transform the lives of children in Darfur who have no other hope, and Donkeys are the only transport. These animals also make the very best presents! Print off one of GlobalGiving's Gift Certificates or get in touch with our US volunteer, Mary Jane, directly at MaryJane-US@KidsforKids.org.uk so we can make you a special personalised certificate (see example below). If you are in the UK or anywhere else in the world do reach out to contact@kidsforkids.org.uk.
Please encourage your friends and family members to Give a Goat this year as well! Together we can make a real difference in the New Year.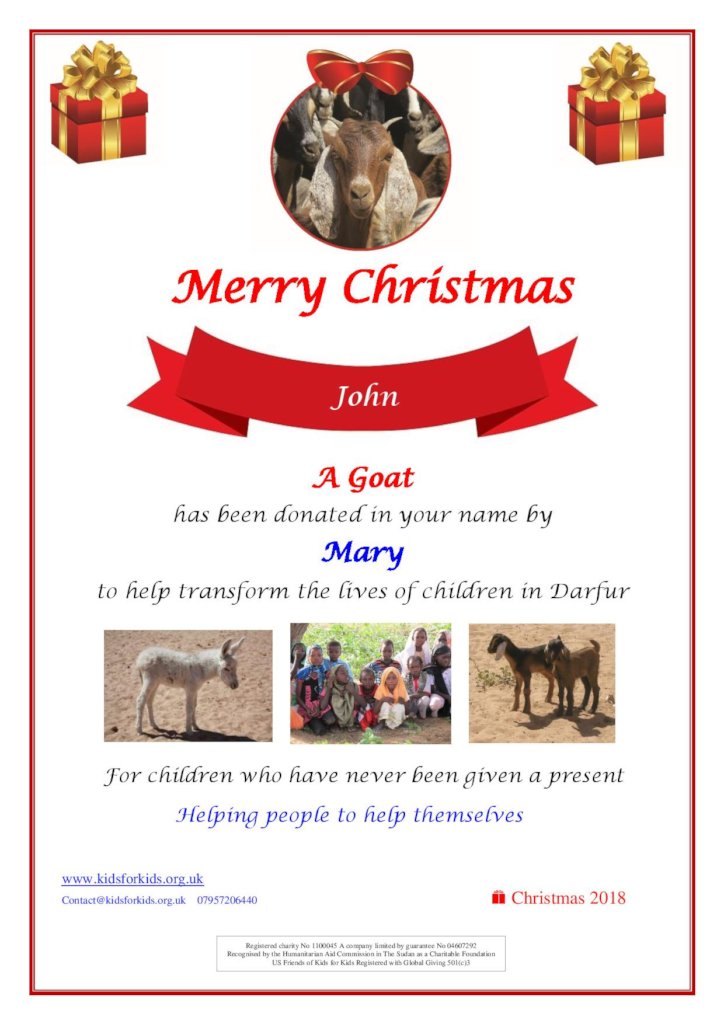 Links: