Project Report

| Mar 19, 2015
Please help us prevent malaria and sickness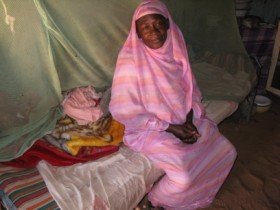 Please help Kids for Kids prevent malaria and deadly sickness bugs
As I write this report, we have so far raised 2/3 of our target to help 200 families in Darfur to protect their children. Thank you for your support - together we are saving lives!
The mosquito nets we provide prevent children from being bitten by mosquitos which emerge at night. Malaria is still killing children all over Africa and in Darfur, where medical help is virtually unavailable, more and more children are dying needlessly. We can help. Moreover, the nets that we give families have an extra fine mesh that keeps out the nasty sand flies that spread sickness causing diarrhoea and vomiting - often deadly for children already weak from malnutrition. Children sleep directly on the sand floor of straw huts, at the mercy of insects.
Our blankets are a real life saver too. Nights are cold in Darfur because the temperature drops rapidly after dark. The poorest little ones sleep directly on the sand floor with no bed, and no covering. Many children become ill from chest infections. The weakest die first. This is heartbreaking, as a simple blanket makes such a difference.
By supporting Kids for Kids you have the power to change things for good. We have proof now, in the villages we have adopted over the years, that these small basic changes do save lives. We believe that by preventing problems we save lives. We track the numbers of children over ten and the numbers of children under ten in our villages. It is heartwarming to see the balance slowly being restored as infant mortality reduces. One teacher told Patricia Parker, our Founder, "thanks to Kids for Kids even school attendance here is up, children are not staying away due to sickness."
Thank you for everything you do. A mosquito net and a blanket really do save lives. Please tell your friends about Kids for Kids and our determination to improve children's health here in the villages of Darfur.
Thank you.
$25 buys 2 mosquito nets to protect children from mosquitos that spread malaria
$42 buys a double blanket to keep children warm at night