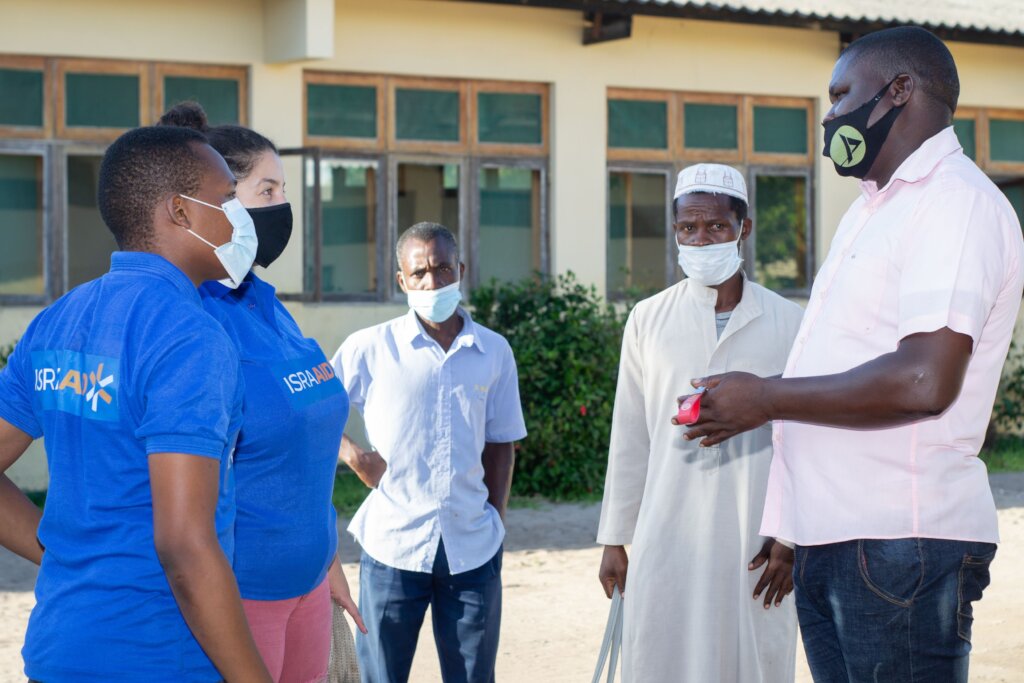 Cyclone Eloise hit Mozambique in January 2021 with heavy rains and winds of 140km/h. It caused over $10 million worth of damage, ravaging thousands of homes, schools, and health centers. 11 people lost their lives, and 8,000 were displaced.
Among the hardest hit were already vulnerable communities still recovering from 2019's Cyclone Idai. Temporary homes made of plastic were destroyed, and the spread of COVID-19 in crowded schools serving as emergency shelters was a high risk. This was exacerbated by minimal access to safe water for handwashing and other basic hygiene practices since wells were contaminated by the rain, and by a lack of protective items such as masks. With global travel restrictions in place amid COVID-19, IsraAID's long-term mission in Mozambique was uniquely placed to respond to Cyclone Eloise.
IsraAID's rapid needs assessment identified that many people in shelters feared the spread of COVID-19 above all else and that few humanitarian actors were providing support at the Sofala Educational Center due to its relative distance. Thus, we distributed hygiene kits containing soap, a water purifier bottle, and multiple reusable face masks to 121 families. Recipients included children, men, women, elderly people, and people with disabilities. Most residents of Buzi were permanently displaced by Cyclone Idai two years ago; those who have had no choice but to leave during Cyclone Eloise. They moved to four Resettlement Neighborhoods, living in tents shared by 10 adults plus additional children, and awaiting materials to build new homes. To help prevent the spread of COVID-19 in the Resettlement Neighborhoods, IsraAID supplied 1,500 reusable face masks, which were distributed to 668 families.
IsraAID's WASH team assessed 15 schools being used as temporary shelters, considering the existing facilities and population served and selected two sites where our intervention would be most effective. Cyclone-resilient structures were built to provide safe toilets, handwashing stations, and a borehole to supply clean water for these facilities. Construction took place with the Ministry of Education's support and complied with national requirements for WASH facilities in schools. As Mozambique is the country's fifth most affected by extreme weather in the 21st century1, and schools regularly shelter vulnerable populations during emergencies, this intervention will have a lasting impact on disaster preparedness for communities in Beira and Buzi.
In addition to including personal protection equipment in the hygiene packs distributed, IsraAID's team integrated COVID-19 safety, awareness, and prevention messaging across all its emergency response. Gatherings took place outdoors to enable social distancing; children and adults participating in psychosocial support workshops were able to deal with the combined effect of Storm Eta and Hurricane Iota occurring while they continue to grapple with COVID-19; and Water, Sanitation and Hygiene (WASH) solutions focused on securing a rapid return to proper hygiene practices. In addition, IsraAID's team developed four 30-minute radio programs on COVID-19 prevention and stress management, which were translated into the two main local dialects – Sena and Ndau – and broadcast to around 1.8 million listeners in Sofala.
Your generous support has enabled IsraAID to provide urgent relief for families displaced by Cyclone Eloise, sharing much-needed supplies and key messaging amid COVID-19. Additionally, the establishment of
water, sanitation, and hygiene infrastructure at two schools will enable 5,550 students to access safe water and WASH systems year-round, while thousands of families will now be able to maintain basic hygiene practices and prevent water-borne diseases in future emergencies. IsraAID's team is continuing to implement vital Community rituals to request permission from the ancients to withdraw water, prior to borehole drilling programming in Mozambique, working to build community resilience and support that affected long-term by climate- and conflict-driven disasters and displacement, so that Mozambicans are better prepared for any future emergency that might occur.
THANK YOU FOR YOUR ONGOING SUPPORT!