Project Report

| Dec 10, 2019
Recovery Efforts in Mozambique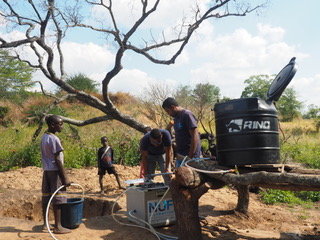 Cyclone Idai ravaged southeastern Africa in early March 2019, causing more than 1,000 fatalities and over $1 billion of damage. Subsequent heavy rains, flooding, and mudslides devastated everything in its path—with 1.8 million Mozambicans directly affected by the storm. Many international organizations called this "massive disaster" the worst weather-related crisis to have ever hit the southern hemisphere.
In the immediate aftermath, at least 130,000 were living in shelters across 136 sites; schools were repurposed as shelters, with many children unable to attend classes. Hundreds of thousands of people are still suffering due to a paralyzing loss of crops and livestock, overwhelming damage to buildings and key infrastructure, and thousands of vulnerable communities left without support, including traumatized children separated from their parents.
IsraAID's Emergency Response Team arrived on 23 March and began conducting a needs assessment in partnership with the President of Mozambique's office, as well as other international NGOs and local partners. IsraAID deployed a medical team, Water, Sanitation, and Hygiene specialists, Pyschosocial Support professionals, and Protection coordinators to begin providing desperately needed aid.
Today, IsraAID remains on the ground providing recovery support to affected communities, in two main sectors:
Water, Sanitation, and Hygiene (WASH):
IsraAID WASH specialists on the ground continue to ensure that communities have access to safe water. In the immediate aftermath of the storm, the team distributed NUF filters, which can provide safe water for entire communities. All filter distributions were coupled with training community leaders on their use, to ensure their ongoing usage and effectiveness. Today, our team on the ground continues to visit these communities-- many of them remote and difficult to access-- to check on the NUF filters, the community members managing their usage, and to provide support with troubleshooting and maintenance. Check out the attached pictures!
Psychosocial Support in Education:
Disasters and conflicts can have a severe psychosocial impact on individuals, families and communities. Following Cyclone Idai, IsraAID conducted a monitoring process in 5 of the worst-affected school districts to evaluate the existing psychosocial capacity and future needs of teachers in each district. Responding to these findings, IsraAID and its partners have launched a program to strengthen the capacity of teachers to provide psychosocial support to children in their care, using relevant and adapted expressive methodologies. Based on the known mental health impact of disasters, coupled with IsraAID's global experience supporting communities as the recovery from crisis, this program will bolster community resilience and promote a culture of psychosocial preparedness and mental health literacy within the education system of Sofala Province.
The immediate aftermath of a crisis is an apt time to focus on building resilience, as communities are more focused on such matters and have recent, first-hand experience to better identify potential hazards. Classrooms are an ideal setting for this intervention since children are some of the most vulnerable in emergencies, and educational frameworks are a natural confluence of society—where parents, staff, children, and local government interact.
To accomplish this, IsraAID, in partnership with GIZ, the Sofala Provincial Ministry of Education, the Mozambican Department of Nutrition and Health in Schools, and other actors, will initiate a two-stage program to integrate psychosocial support and resilience education into the local school system. This program will reach more than 412,000 beneficiaries across 357 primary schools-- and is currently being launched!
More updates from the field to come! Thanks very much for your ongoing support!