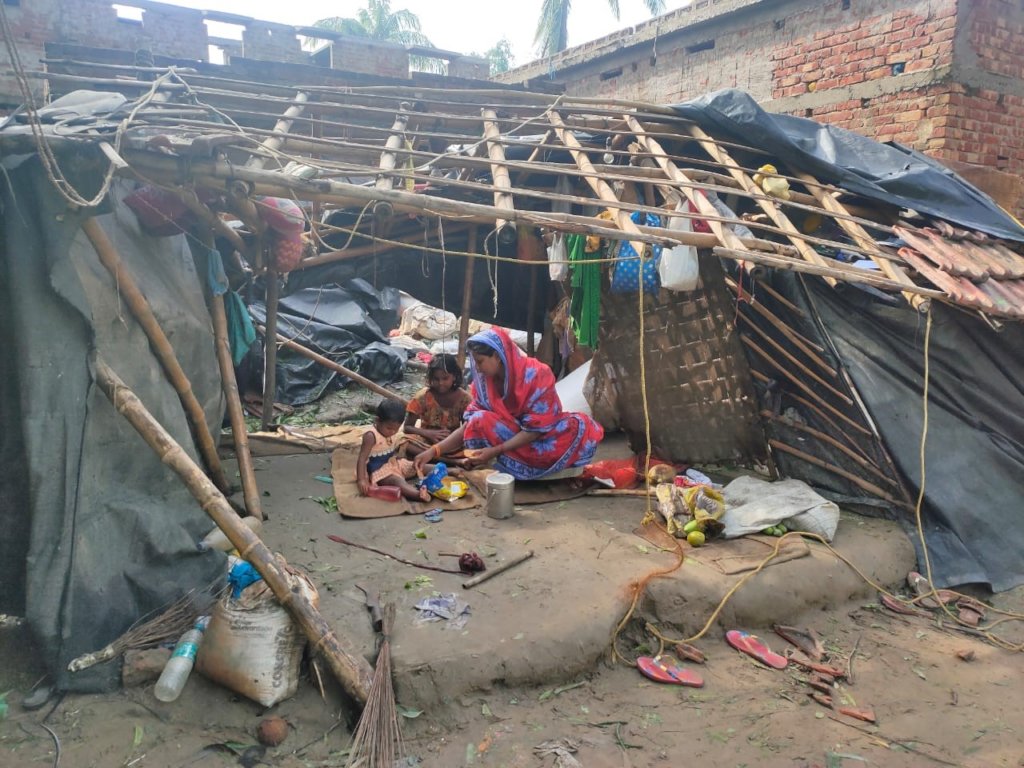 Thank you for your support of this project! I'm writing to share a few updates from our emergency response in India and Bangladesh. With so much happening in the world, thank you for taking the time to learn about and take action in response to this crisis. It means the world.
Updates as of May 22, 2020
"Families are returning to their villages to find their homes completely destroyed, and their livestock and crops washed away," shares Debabrat Patra, ActionAid India's Associate Director and humanitarian response lead. "Many lives were saved by evacuating people to cyclone shelters, but the worry now is that coronavirus will spread rapidly.
"Communities are already reeling from battling the Covid-19 crisis. The poorest and most marginalised, migrant workers and others in informal, daily wage jobs, will now be facing even greater loss of livelihood."
Farah Kabir, Country Director of ActionAid Bangladesh says: "Communities need urgent support as they are without basic necessities such as food, clean water and materials to rebuild their homes. Health check-ups, public health awareness and hygiene materials, must also be part of the emergency response.
"Violence against women and girls increases during humanitarian crises and disease outbreaks. Women's protection and leadership must be central to response plans and it is vital that women and girls have access to safe shelter."
Thanks to your support, ActionAid's emergency teams are supporting communities as they face the devastation caused by Cyclone Amphan, amid the rising threat of Covid-19.
In India, disaster risk reduction volunteers and women leaders in coastal areas of West Bengal and Odisha are supporting vulnerable families with food and hygiene supplies. ActionAid is working with 5,000 homeless families, 1,000 domestic workers and 2,500 families of informal workers living in slum areas, providing food support as part of the organization's response to the COVID-19 crisis.
Volunteers and women leaders worked in close collaboration with the local authorities to evacuate people to safety. ActionAid is coordinating support at cyclone shelters, ensuring families have access to food, medicine and separate areas for women and girls.
In Bangladesh, local emergency teams are providing food support and hygiene supplies to 1,520 families in the most affected areas, including Borguna, Patuakhali and Bhola.
Before the cyclone hit, young ActionAid volunteers disinfected and prepared 75 cyclone shelters, providing hand-washing facilities, sanitary towels in the cyclone shelters and masks and gloves, in coordination with local authorities.
Women leaders and young people are keeping communities up to date with information and awareness messages via text messages and have supported pregnant women to cyclone shelters.
We know true recovery requires long-lasting change. ActionAid Bangladesh's Farah Kabir shares: "This latest extreme weather disaster to hit Bangladesh shows that we must find new ways to support people to recover and rebuild their livelihoods.
"ActionAid is calling on governments to ensure that climate resilience is built into long term Covid-19 response plans and poor countries must be supported by the global community to deal with rising climate impacts."
This rapid response is possible thanks to generosity of supporters like you - and it's just the beginning. Thank you for being part of the ActionAid team!