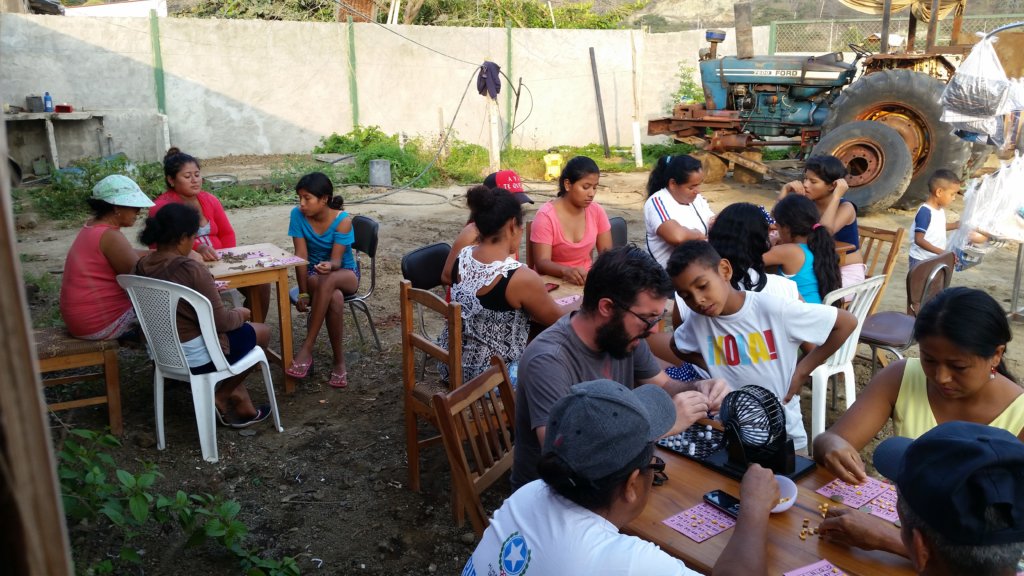 When the urgency to fulfill post-earthquake needs faded into normalcy, the attendance at periodical community meetings dropped. That´s when Miriam, our best neighbor and ally, suggested we buy a Bingo set and invite the entire town to play. This was a turning point in our community organization skills.
We have encountered delays with the construction of the Intercultural Center, so our Library and seamstress workshop are still housed in a precarious bamboo shelter that is always busy and full of activity. After a hectic week of Library programs, overseeing teacher training, running around with the construction team, coordinating with volunteers from around the world, organizing our gender equality program, and supervising our vegetable gardens project, every Friday afternoon we take the chairs and tables out and hold a Bingo assembly. This is our opportunity to talk about what is going on and ask our neighbors what they would like to happen once the Intercultural Center is finished and functioning. These are the hopes and dreams we heard last Friday:
Isis (16) wants a jewelry workshop, while Panchita (65), short, chubby and grandmother to 12, appeals for dancing lessons and a big mirror were she can watch herself dance: "I´ve been told I´m a good dancer, but I´ve never seen myself dance" she remarks with her sparkling naughty eyes, making us all laugh. Fernando (48) hopes we can start a gym and Nayeli (18) agrees with him. The children want toys for Christmas and ask when Christmas is after all? Vanessa (15) asks if we could bring in a nutritionist to talk about diets and health; Irene (48) would like a self-defense class. The afternoon goes on between plans and prizes, and when it gets too dark to see the numbers, movie night starts, this time El Zorro.
We meticulously note each hope and dream, and with your continued help, we are certain we can make all this happen.
In the last three months since our last report we have either purchased or received as donations: 5 laptops, 5 tablets, 1 printer, 1 movie player, 1 sound system, a guitar, a ping pong table, and of course the books keep coming. Construction has turned out to be a challenge because our constructors are full of excuses for their delays; we are keeping our calm and sternly coaxing them to move on. We hope our next report will include images of our inauguration party.
So, since last we spoke, we have learned this: contractors are a test of your patience. Our efforts in Don Juan, with your support, are already making a difference in this tiny fishing village and the future will bring creative alternatives that will broaden the horizons of all.
Links:
Attachments: