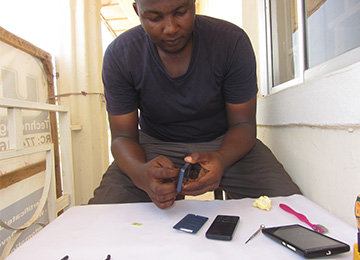 Dear Amazing Leadership Initiatives and Respective Donors,
Because of your generous donation, you have helped us to offer classes at the Regional Business Education Center in Bauchi and create 20 more self-owned businesses in Nigeria. In these classes, leaders and prospective business owners will be taught financial, personal, and business management. It will also be able to serve as a help center for problems and questions that arise. Essentially, this class will offer a 2nd year of business training, allowing businesses that are already successful to open up new shops.
When successful business owners replicate their original model and expand, more jobs and opportunity for a better life are created. Not only do these businesses help their own community, but also serve as a model for growth in surrounding communities. Project beneficiaries fill voids in the local economy while improving their families' health, education and financial stability.
This November, we have launched fifteen new businesses in Nigeria. This includes a TV repair company, beauty salon, cell phone repair company, and much more. Eight years ago, a man named Musa was taught how to tend to flowers while working as a janitor. Because of his commitment and love for gardening, Musa decided to become a full-time gardener. He has experienced great success, working for over one-hundred people over this time period. Because of his hard work in, Musa has the ability to support his wife and four children who are all in school. Currently, he does not own his own business, but sees this as an opportunity to do so.
Another great success story comes from a man named Ibrahim. Working in the Wunti Market in Bauchi, Ibrahim has been able to help take care of his siblings and lift the burden off of his uncles back. Four years ago, Ibrahim learned how to repair mobile phones. He took this acquired skill and decided to open his own business. On average, Ibrahim repairs five phones each week. This allows him to help his sister financially, so she can continue to study microbiology at the University of Bauchi. Ibrahim plans to continue to grow his business, helping his family any way possible.
Our end goal is to be up the economy starting at its roots. This would be impossible without your generosity. You have allowed us to continue our efforts and develop independent profit-generating businesses that serve as models for growth in surrounding communities.
Director of Operations Marshall Bailly stated,
"Project beneficiaries fill voids in the local economy while improving their families' health, education and financial stability. Previous leaders have sent their brothers, sisters and children to school, helped invest in new businesses within the community, offered new services to community members such as the disabled, establishing infrastructure for the future growth of Nigeria.
Leadership Initiatives will be regularly providing updates and insight into these projects as the month's progress through Global Giving's reporting program. Of course, at any time you can request a project update to learn up to date info on how this project is progressing.
As a supporter of our endeavors, Leadership Initiatives would love to have you involved if you ever want to help grow our programs, learn of ways you can participate or have new ideas on how to develop our program please contact me at mbailly@leadershipinitiatives.org. Your hard work and intelligence is the greatest gift we could receive as we attempt to create a better world.
Thank you once again from the bottom of everyone's heart here at Leadership Initiatives. If you would ever like to speak to our staff on the ground, a project leader, one of our Business Alliance student participants, we would love to set up a Skype chat for you, so you can personally see the change you are creating."
Wishing you the best!
Sincerely,
Austin Kunde
Assistant Director of Special Projects