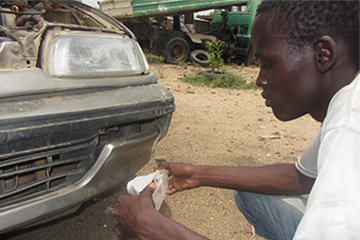 Dear Amazing Leadership Initiatives and Respective Donors,
Because of your generous donations, Leadership Initiatives (LI) was able to create 100 new jobs in 2015. LI takes on the problems of underdevelopment by giving tools needed to communities to address their own needs. We partner with local government and business leaders to provide individuals with the training needed to start their own business. After acquiring these tools, these young leaders take it upon themselves to develop within their communities.
We breathe new life into democracies from the roots by cultivating self-reliant leadership within the community. We help individuals and communities build relationships necessary to solve problems using the existing resources within the community. In the process of doing so, we train individuals to take their neighbors, regions, and nations with them.
Our goal is to better the lives of individual business owners and those in their communities. Creating a vast amount of jobs helps to better the lives of their families by giving them an opportunity to send their children to school, buy needed medication, and improve the overall living conditions. It also betters the lives of those in their community by offering products and services that were unavailable before.
An example of your generosity and donations being put to great work is Muhammad who has worked as an automotive electrical repairman for over five years. His efficient service has given him the reputation of a problem solver, earning him a position as a community leader. Many people throughout the community look to him for advice and guidance. He currently employs three people, fixing around ten to thirteen cars per month. Unlike many automotive repair shops in Nigeria, Muhammad works with most every single model, giving him a leg up on his competitors. Because of his unique skillset, Mohammad is able to provide training in electrical repairing, empowering working men to seek jobs of their own
Rita Mi, a 24-year-old college graduate is yet another great example of your donations being put to great use. She is the first born in her family and has always had a creative mind. She decided to put this skill to use in 2013 by starting her own wedding makeup business. Rita is a driven young woman, glamorizing on average three to five brides every month in both Bauchi and neighboring states. She has been able to train other in her field and help with the education of her two younger siblings.
This would all be impossible without your generosity. Your donations have allowed us to continue our efforts and develop independent profit-generating businesses that serve as models for growth in surrounding communities.
Director of Operations, Marshall Bailly states,
"Project beneficiaries fill voids in the local economy while improving their families' health, education and financial stability. Previous leaders have sent their brothers, sisters and children to school, helped invest in new businesses within the community, offered new services to community members such as the disabled, establishing infrastructure for the future growth of Nigeria.
Leadership Initiatives will be regularly providing updates and insight into these projects as the month's progress through Global Giving's reporting program. Of course, at any time you can request a project update to learn up to date info on how this project is progressing.
As a supporter of these communities, Leadership Initiatives would love to have you involved if you ever want to help grow our programs, learn of ways you can participate or have new ideas on how to develop our programs please contact me at mbailly@leadershipinitiatives.org. Your hard work and intelligence is the greatest gift we could receive as we attempt to create a better world.
Thank you once again from the bottom of everyone's heart here at Leadership Initiatives. If you would ever like to speak to our staff on the ground, a project leader, one of our Business Alliance student participants, we would love to set up a Skype chat for you, so you can personally see the change you are creating."
Wishing you the best!
Sincerely,
Austin Kunde
Assistant Director of Special Projects