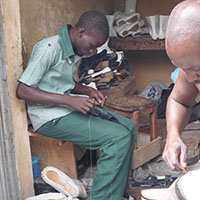 Dear Valued Donor,
Your support over the past few years has resulted in phenomenal job growth in regions across the world. While Leadership Initiatives seeks to empower individuals to start their own businesses, the ultimate impact lies in creating jobs; only with more individuals in the workforce can the symptoms of poverty be overcome.
In this letter, Leadership Initiatives would like to take the time to show you the fruits of your efforts; the significant investments that you have placed in improving the lives of others have produced astounding results in creating jobs and empowering many hard working individuals. With a stable source of income, many of the individuals working with Leadership Initiatives have found a way to support their families as well as their communities. These are some of their stories.
Mahmood Alhassan has been working with Rabiu, the owner of an electrical repair shop, for approximately ten years; he is one of the employees of Rabiu's most skilled employees and has been of tremendous help to Rabiu. As a child, Mahmood's father brought him to learn how to perform electrical repairs; it was no surprise, when Mahmood found employment at Rabiu's business where he could hone the skills his father had taught him. After years of work, Mahmood has become an invaluable asset for Rabiu's business; he is one of the few employees that can finish skilled repair jobs without oversight. Moreover, in working at the electrical repair shop, Mahmood has found a means of supporting his family and learning specialized skills that will allow him to prosper in the future.
Hamza Kabiru is another young employee who works for Danliti, owner of the shoemaking shop. As a child, his parents were unable to support him through school; he started working for Danliti in order to take charge of his own education. About 8 months after, he had made enough to be able to return to school. Today Hamza is in high school; known as one of the most skilled employee at the shop, Hamza works hard to earn money to help his parents provide for his siblings.
Yet another hard working employee is Hamza Musa; originally from the Jigawa state, he came to Bauchi in search of more opportunities and a better life. His life took a turn for the better when he met Sani, owner of a local fish farm. Hamza and his family have benefited tremendously from the fish farm; the family is so involved with the farming process that his wives and children even know when and how to feed the fishes. Hamza's salary is directly invested in his family and his helped him put all of his children through school. His hard work serves as a testament to the fact that a brighter future is available to anyone determined enough to get it.
Because of you, there are more jobs, orphans cared for, and opportunities for communities in Nigeria. Without your involvement, Leadership Initiatives would not have grown into what it is today. If you would like to learn more about the jobs you have created, please visit our new website at www.lichange.org. There you can find personal stories, meet members of the community, view photo galleries, or even set up a Skype call with a business owner!
Also if you have a moment, could you tell us why you donated and how you heard of us; we are always trying to better refine our message and reach more people with our call to change. Wishing you, your friends and especially your family the absolute best this Holiday Season!
Sincerely,
Marshall and the entire Leadership Initiatives Family
_____________________________
Marshall Bailly II
Executive Director
Leadership Initiatives
4410 Massachusetts Ave., NW #236
Washington, DC 20016
(p) 202-465-4796 (f) 202-280-1221