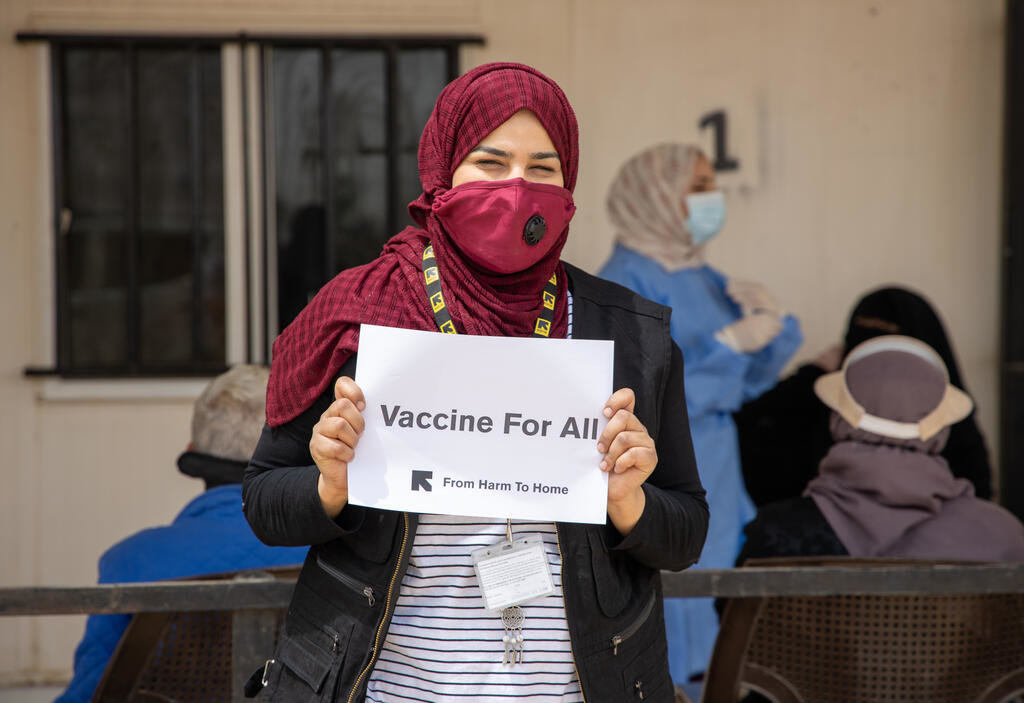 As the race to vaccinate populations against COVID-19 gathers pace, the gulf between those with access to a vaccine and those without has grown. While wealthier nations are equipped to fully inoculate their populations, the vast majority of people in low-to-middle-income countries have been left with unequal access.
This disparity continues to threaten the lives of millions of people living in under-resourced places and risks expanding the toll the virus has taken on our global community. We know that ending the pandemic can only be achieved if vaccines are available in all countries – to all populations, including refugees and displaced people fleeing conflict and other crises.
Bringing the COVID-19 vaccine to crisis hotspots
With your essential support—and backed by the IRC's strong track record responding to health emergencies and extensive networks—we are working to ensure people displaced by conflict, climate change and other crises are included in the vaccine rollout and are ready to receive it.
Right now, the IRC is helping countries prepare to receive the COVID-19 vaccine and support inoculation campaigns by setting up isolation units, and procuring personal protective equipment (PPE) while ensuring that clinics and hospitals have access to essential supplies like medical oxygen, testing kits for COVID-19, and clean water and sanitation. As the vaccines become available, we are helping to administer them through the network of health facilities we currently support.
One of these is a clinic we run in Zaatari refugee camp in northern Jordan. The ministry of health has designated it a COVID-19 vaccination site, and many IRC health workers there have been trained by the ministry to administer the vaccine. The vaccination campaign started in mid-April 2021 and will eventually cover the approximately 80,000 Syrians who live in Zaatari.
In Uganda, the story is similar. Ministry of health staff there are vaccinating health workers through the clinics we run in Bidi Bidi refugee camp in the north, home to some 270,000 South Sudanese. With IRC health workers trained to administer the vaccine, priority groups living in Bidi Bidi, such as the elderly, will soon receive their shots.
In the end, a positive solution to the coronavirus crisis can only be achieved when everyone—including people in the hardest-to-reach parts of the world—is accounted for in the COVID-19 vaccine rollout. "Everyone deserves equitable access and everyone has a right to health," says Heather Teixeira, an IRC health policy advisor. "We cannot end the pandemic until all populations have access."
Thank you for being part of the solution.