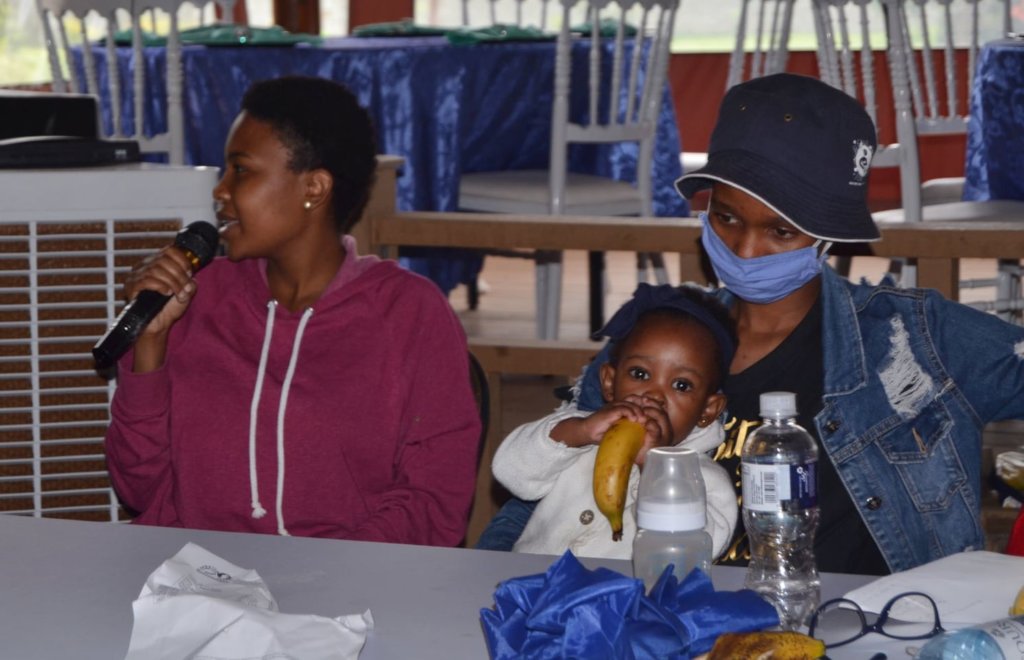 SSI continued our fight against gender-based violence [GBV] and child abuse as cases continue to sore amidst the Covid-19 pandemic. Our work this quarter focused on building awareness and understanding through a number of prevention initiatives, while also increasing our direct support to victims and survivors. Although it's been challenging to meet the increased demand, the pandemic resulted in a nationwide call to action to mobilize a response against GBV and we have good news to report!

GBV DIALOGUE WITH YOUNG MOTHERS
SSI delivered focused dialogue sessions for young mothers as part of our ramped up psychosocial outreach and support services in response to the pandemic. In collaboration with representatives from the Department of Gender Affairs, SSI counsellors facilitated support group sessions for young mothers in the Khatleng District. Young mothers were able to discuss challenges they face that have been exacerbated since the pandemic such as co-parenting, caring for their own mental health, and child support. In addition to getting the opportunity to connect to each other and build community, participants were also referred to ongoing services and resources as needed and even received sanitary pads thanks to a thoughtful donor.
GBV & CHILD ABUSE PREVENTION AIR TIME
As a leader in GBV and Child Protection Advocacy in Botswana, SSI increased our efforts this year to meet the urgent need for more action to disrupt worsening violence in the region. SSI's very own Chirwah Mahloko, Human Rights Advisor, sat on a panel of experts and changemakers to discuss the Sex Offenders Registery Bill 2020 and other related interventions the government is rolling out to address GBV. The segment aired on Botswana TV and included many key officials, including representatives of the Ministry of Defense, Justice & Security, Administration of Justice, Ministry of Nationality, Immigration and Gender Affairs, and Botswana Police Services among others.
SSI leaders were also featured on GABZ FM, the primary radio station in Botswana to give our input on the days' most pressing challenges surrounding child abuse prevention. We reviewed a critical issue in addressing child protection: Is Corporal Punishment a solution to child abuse or does it condition youth to perpetuate violence against each other in today's society? We had the opportunity to unpack this topic and explore the importance of balancing culture and tradition while pushing against these norms to create change and increase safety. Through social media we also engaged our community in this discussion to encourage the conversation within the community.

GBV & THE COURTS
SSI has been steadfast in our pursuit of justice for victims of violence, a major component of our Freedom from Fear campaign. Through this initiative we provide support and advocacy to help victims feel 'free from fear' of reporting and free from fear of having to watch their perpetrator escape justice. We are especially thrilled to report that the Government of Botswana [GoB] has launched 25 gender violence courts as an effort to increase a timelier justice response and hold perpetrators accountable. This decision by the GoB is not only a concrete action that can reduce violence, but it's a symbolic gesture that signifies an important shift in how the government and the public view gender issues. Nearly 70% of women in Botswana report having experienced physical or sexual abuse, which is more than double the global average, according to the United Nations Population Fund (UNPF). We still have a long way to go to eradicating GBV but swift, accessible justice for victims is a significant step in the right direction.
Stay tuned to SSI's updates in 2021 as we launch our Freedom from Fear docudrama film!