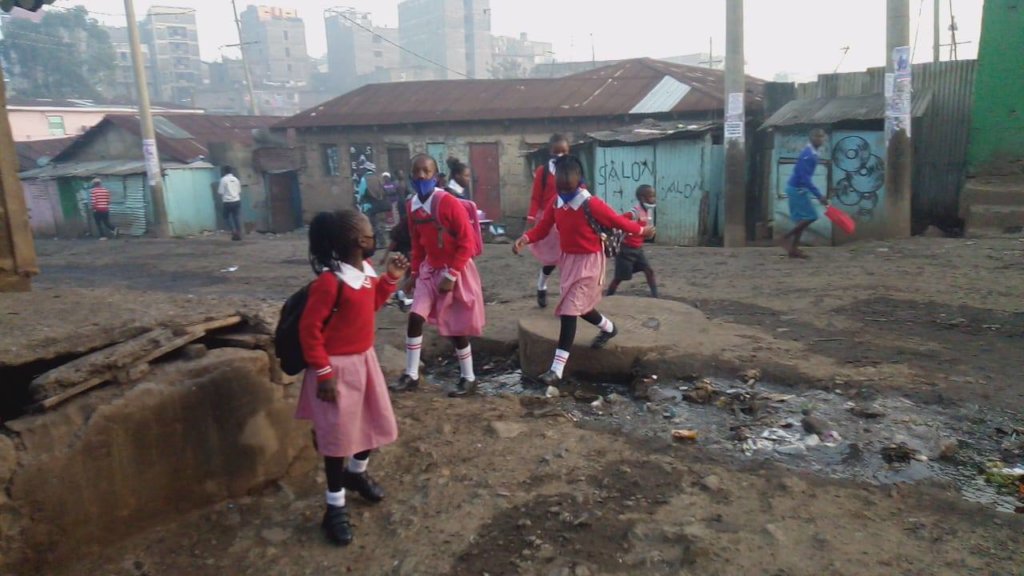 A new year has begun, and the world is still battling COVID and the consequences of this horrible pandemic.
In Kenya, the numbers are not as appalling as somewhere else, but the long months of lockdown, curfew, and preventive measures have caused great harm to those who were already living in difficult conditions, such as the million people living inside the slums.
The economy of the slums has been shattered since the first closures in March 2020, and people started suffering the consequences of hunger and unemployment from the very beginning of the pandemic. Families founded themselves with kids at home, because of schools being closed, and adults locked inside their tiny metal shack without a chance to find a job for the day and bring food home at night.
Being present every day in Korogocho and Dandora gave us the chance to be present for these families, helping them with food, medicines, and psychosocial support to give them a hand to get through the tough times. Finally, after months of waiting and receiving different updates, on January 4th we've been able to open our schools for the new year!
Finally, our children have been able to go back to school, to receive a guaranteed meal every day, to receive again the protection that school, in the slum, can guarantee.
What have we done in recent months with your help to ensure that our children can return to school safely?
1. Built hand-washing points at the entrance to the facilities: taps with running water and soap for pupils, teachers, and parents of students.
2. Purchased sanitizing gel and masks to distribute in each classroom.
3. Purchased digital thermometers to measure the temperature of all students as they enter and leave class.

All students were incredibly excited to go back to class, and we are so happy they can readjust to their daily routine and start building their future with hard work.
THANKS TO ALL OUR AMAZING DONORS who trusted us and gave their contribution to let us achieve our most important goal. Now there's a lot of work to be done to help rebuild the economy of our kids' families, and we'll do our best to make this 2021 a year of joy and satisfaction for them.