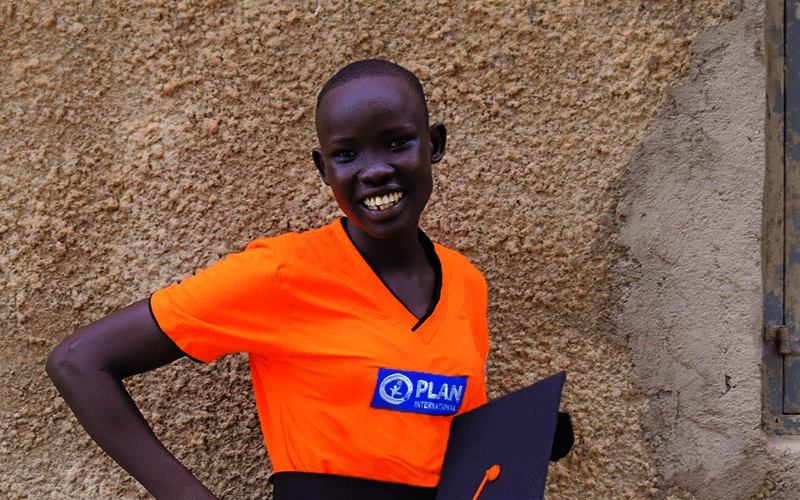 COVID-19 isn't the only threat girls are dealing with right now.
There's another silent, lethal pandemic lurking in the shadows — threatening their dreams, their futures and even their lives.
It's the spike in gender-based violence and other harmful practices, like child marriage and trafficking. Decades of progress for girls' equality is at risk.
The economic impacts of COVID-19 are expected to be widespread and devastating, particularly for women and girls. When families are struggling to survive, girls are more likely to be forced to drop out of school, marry at a young age or become victims of human trafficking. And the longer a girl is out of school, the less likely it is that she will return.
Childbirth is the leading cause of death among 15-19-year-old girls worldwide. Increased marriage and pregnancy rates, combined with overburdened health systems, means more girls' lives are on the line.
Gender disparities are greatest in countries dealing with extreme poverty, economic vulnerability and unrest. One of the newest and poorest countries in the world, South Sudan's short history has been plagued by war, floods and food insecurity. Nearly 1.5 million people have been internally displaced, fleeing their homes to escape the violence.
Life was difficult enough for forcibly displaced populations before COVID-19. Now, it's much harder. In overcrowded areas, social distancing is nearly impossible. And access to clean water, soap, sanitation facilities and basic health services is limited.
School closures are even more devastating for refugee and displaced girls, who are already at a disadvantage. But that doesn't mean they're giving up.
Here, three brave young women in South Sudan open up about their struggles, sharing what — and who — inspires them to keep fighting for the future they deserve.
Rachel, 20
"When schools were told to close to prevent the spread of COVID-19, my family stood with me in all that I did. I knew how boring it would be without being busy with school, so I resorted to studying all sorts of books I could find.
I also started selling small items including charcoal to make some money for my upkeep. This kept me busy and it helped me cope with the impact of the closure of schools. Above all, it helped me stay focused on the bigger things that made sense to me as the girl that I am.
I am a girl of my own principles and have never found pleasure in thinking about pressures from boys. I am glad that the government has decided to let us go back to school."
Monica, 16
"I was depressed for two months following the closure of schools. I did not know what my future would look like. Hours took a long time to pass. Some days, it felt as though darkness would never come and the nights became longer.
I decided to ask my aunt for guidance. She was very supportive and took me through her life story and how she ended up where she is now. I found so much inspiration from her struggles, even though she did not go far with education. I realized that this pandemic is a temporary obstacle which will go someday.
My peers were getting married or falling pregnant and not a month would pass without me hearing this. I stayed strong and resisted all temptations by listening to my aunt and keeping busy with housework and joining my aunt in farming. We spent the day weeding and sometimes gathering crops.
Today, I am back in school. I feel so happy and as if I have pushed a great burden off my back, although I still have three more months before I can take my final exams."
Ayen, 21
"If I survive the COVID-19 pandemic without falling pregnant or losing hope, it is due to two things: first of all, I am a leader in my school. And secondly, I'm a member of Plan International's Champions of Change project. So if I need to do anything, I make sure to recall that first.
To me, marriage or settling down with a man is not even in my near thoughts, let alone at this time. I have seen the kind of suffering people go through nowadays. My friends who dropped out of school to get married are finding it difficult to even find anything to eat.
So, really, I feel determined to achieve better things to enable myself to get through the hardship. I am strong and urge every other girl to forget about everything else and concentrate on their books."
The fight for gender equality cannot take a backseat now.
The inequalities of the most vulnerable are only heightened during emergencies. As the world copes with the COVID-19 pandemic, millions of girls are dealing with a second shadow pandemic. Too many are struggling in silence, alone and invisible.
The determination of young women like Rachel, Monica and Ayen is as inspiring as their circumstances are heartbreaking. Now, more than ever, we must continue our critical work to advance girls' rights. The only way forward is together — with no girl left behind.