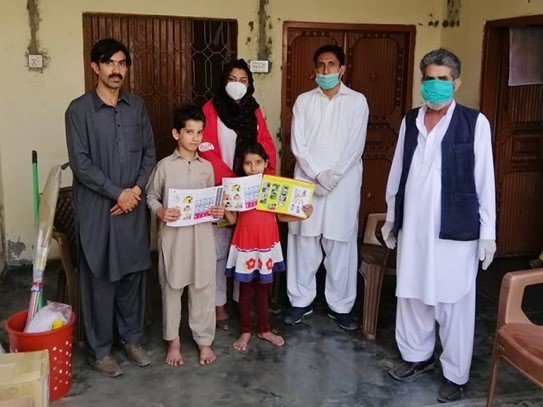 In Pakistan, AAR Japan is distributing emergency assistance items for families facing a high risk of infection due to their fragile social-economic situations, such as families with children with disabilities.
Persons with disabilities (PWDs) can be in unique risks under the COVID-19 pandemic. For example, those who are visually impaired identify things by touching them, but touching contaminated surfaces carries a risk of infection. Persons with intellectual disabilities may have difficulty understanding information on how to prevent infection when the information isn't accessible to them, and persons with physical disabilities can't take physical distance with their carers to prevent infection risks.
Currently, we are distributing not only sanitary items such as masks, soaps, and hand sanitizers but also groceries such as 20kg of wheat and milk in the area of local schools we support. Many of the recipients are economically disadvantaged even before the pandemic, but they are now in a further severe situation because of the outing restrictions issued by the government.
Hygiene items (hand sanitizers, soaps, masks and disposable gloves, etc.) and food items (oil, salt, sugar, etc.) were inspected and packaged for distribution by AAR staff.
AAR staff are also giving hygiene instructions, showing the correct way to wash hands and telling how to make hand sanitizers when they visit each house to distribute the relief items. We believe that it is essential to give not only relief items but also reliable information and psychosocial support.
Being forced to stay home all day can be stressful and it is concerning that domestic violence and child abuse may increase. Some of the children have difficulties adapting to a new environment under this pandemic could behave differently. They may cling to their parents more than usual or may wet their beds. If parents aren't informed that these are responses caused by the change of lifestyle and how they can deal with the situations, they might tell off the children, raise their voice or even give physical punishmentwhich can be traumatizing for children.
World Health Organization (WHO) has created leaflets that tell effective ways to cope with the stress. Seiji Konno, AAR staff qualified as a Psychiatric Social Worker (PSW) took part in the project planning and decided to distribute the leaflet written in Urdu after discussing with WHO Pakistan office.
To support as many people as possible
In Pakistan, as of April 23rd, we had delivered relief items to 56 families. We will continue the distribution up to 60 families in total, mainly for families with children with disabilities and orphans. We are also planning to distribute items to other people who are in need, cooperating with education and health authorities in Haripur District.
To prevent the spread of COVID-19 infection, and to support as many people as possible, we kindly ask for your warm support and cooperation.