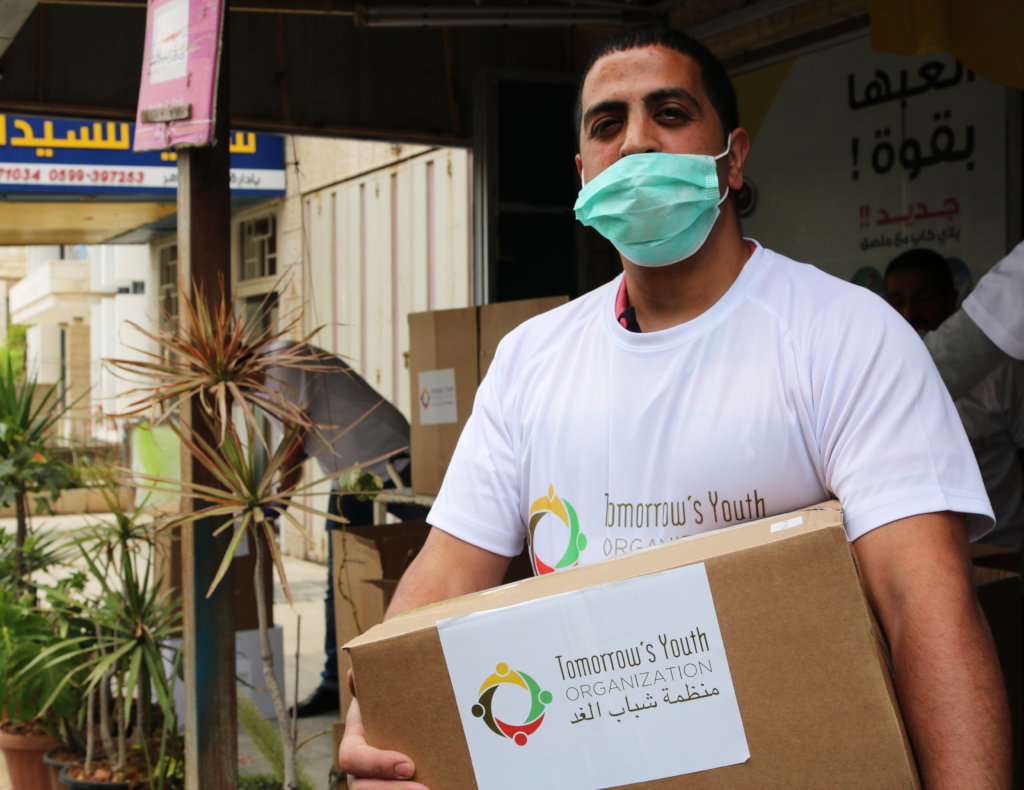 I hope this update finds you and your loved ones in good health. I want to begin by recognizing how challenging it's been to care for ourselves and our families with the many important events unfolding around us—from crucial racial justice conversations, to monitoring COVID-19 infection rates, and keeping up with health advisories as well as reopening protocols and projections for the future. Yet, thanks to you and our community of nonprofit leaders worldwide, I remain optimistic. Because of your generosity, since the end of April, we have awarded:
$1,300,000 to 47 nonprofit partners across more than 20 countries.
Engulfed by so much uncertainty, our partners are continuing to do what they do best—show up to support their communities through the unfolding complexities.
Within the U.S., you helped fund relief and support in the form of medical care, shelter, meals, financial assistance, mental and emotional support services. One such example is the National Association of Free and Charitable Clinics, which operates in all 50 states. Its teams have creatively adapted medical services, launching telehealth consultations and setting up care in parking lots as well as conducting testing and handing out protective medical equipment.
In the Democratic Republic of the Congo, a country I once called home, Synergie des Associations Féminines du Congo (SAFECO) is implementing innovative solutions to help its communities stay healthy. This coalition of inspiring Congolese women's associations has been hard at work, making soap and protective masks as well as building water stations. I can attest first-hand that this is no easy feat, considering the lack of running water in many of these areas. But, instead of being discouraged, they continue to shine a light in their community and have even launched a campaign to sensitize individuals about the best health practices to mitigate risks and where to access support.
In Brazil, Associação de Saúde da Criança is providing physical, mental, emotional, and social support to children and their families. They are working around the clock to deliver hygiene products, medication, and other critical supplies for 250 families—an average of more than 1,000 individuals across Rio de Janeiro.
You can find a complete list of grantees from the most recent round of Coronavirus Relief grants at the very bottom of this update.
I may not know how this virus will be affecting our world when I send you our next update. But you can rest assured that we will continue to monitor and assess pressing humanitarian needs and partner with high impact, community-led organizations providing critical support to those who need it most.
You can learn more about GlobalGiving's holistic and community-led approach to the COVID-19 pandemic here.
In gratitude and solidarity,
Sandrina
List of Grantees:
Asociación Grupo de Trabajo Redes, Peru
Banco de Alimentos de Bogotá, Colombia
Boys and Girls Clubs of Canada, Canada
Brazil Child Health/Associação de Saúde da Criança, Brazil
Breakthrough Urban Ministries, USA
Cathedral Soup Kitchen, USA
Chengdu Hezhong NGO Development Center, China
The Children's Center, USA
Citizens' Disaster Response Center Foundation, Inc., Philippines
Community Skills Development, South Sudan
Global Medic, Canada
Ednica, Institución de Asistencia Privada, Mexico
Egyptian Food Bank, Egypt
Enjoyable Aging / Starost v radost, Russia
Free Minds Book Club and Writing Workshop, USA
Fundación de Beneficencia Privada Banco de Alimentos de Puebla, Mexico
Fundación Patronato María Auxiliadora, Colombia
Global Fund for Children, various Latin American Countries
Global Fund for Women, Brazil
Greater Boston Food Bank, USA
Health and Illness Awareness Fit for You Raising Awareness with Students, USA
Instituto Oswaldo Ribeiro De Mendonca, Brazil
Interfaith Neighbors Inc., USA
Latin American Youth Center, USA
LEAD Coalition of Bay County, Inc., USA
Mission old Brewery, Canada
Mothers2Mothers, various countries in Africa
Move for Hunger, USA
Movimiento de Apoyo a Menores Abandonados, Mexico
Narada Foundation, China
National Association of Free and Charitable Clinics, USA
National Day Labor Network, USA
Network of Organizations working for people with Disabilities in Pakistan
One Planet, Peru
Organismo de Nutrición Infantil, Mexico
Promoción y Acción Comunitaria, Mexico
Rajasthan Samgrah Kalyan Sansthan RSKS, India
Reach Out NGO, Cameroon
Sarah's Circle, USA
Second Harvest Food Bank of Central Florida, USA
Snehalaya, India
Sozidanie, Charitable Foundation, Russia
Synergie des Associations Féminines du Congo (SAFECO), DRC
Voice Trust, India
World Vision Somalia
Xilotl Asociación para el Desarrollo Social, Mexico
Zindagi Trust, Pakistan