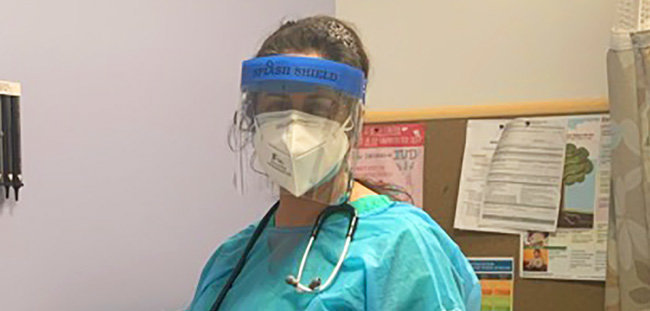 For New York City's lower-income children and families, living in what was once the global COVID-19 epicenter was a frightening ordeal. But because of generous friends like you, since the beginning of the pandemic we have been able to provide medical care to 7,000+, food relief to 45,000+, and family crisis interventions to 1,000+. Pandemic-related hunger still remains a severe issue in New York City (we started a fundraiser for hunger relief), but we are thankful that at least our health centers and hospitals are no longer overwhelmed and overcapacity. In fact, New York City has gone from being the global epicenter of the pandemic to reporting just a handful of new cases a day. Getting to this point was not easy at all — but you helped us get here.
Some of you may recognize the above picture of Dr. Monica Mirchandani from a tweet we featured her in. She is one of our pediatricians here at Children's Aid working at our community health clinic in the South Bronx, one of the neighborhoods in New York City that was hardest hit. Through your support, she and other Children's Aid staff have been able to deliver lifesaving work to so many who needed it. We want to tell you the story of one of those patients.
In April, 19-year-old Tiffany* presented to our Bronx Community Health Clinic with flu-like symptoms. She was immediately tested for COVID-19, and a few days later, she was given the results: Positive. Since Tiffany's case wasn't severe enough to go to the hospital, Dr. Mirchandani advised that she isolate herself in a room, drink plenty of fluids, get lots of rest, and continue to call our health clinic to monitor her symptoms. Since she was living in a homeless shelter with close communal living, it was imperative for the safety and well-being of those around her that she isolate herself in a room.
During her quarantine, Tiffany felt caged up and needed an outlet. Since Children's Aid has more than 100 programs for children and youth, Dr. Mirchandani was able to refer her to a virtual teen recreation group to provide her with a social outlet. To help cope with the anxiety she was feeling, Dr. Mirchandani referred her to Children's Aid's mental health counseling. Tiffany was paired with a therapist who helped her focus on skills to cope with all the uncertainty and stress. Two weeks after being diagnosed, Tiffany made a full recovery thanks to the information, treatment, social outlet, and emotional support she received — and that is all thanks to your generosity. Thank you.
*Tiffany is an alias name used to protect the privacy of the patient