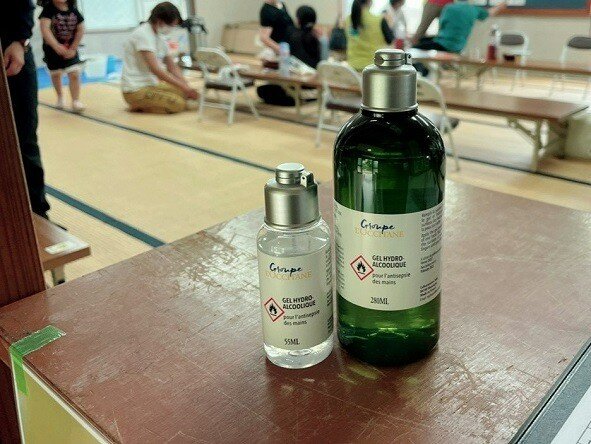 December 2021 marks the second year of the COVID-19 pandemic. Japan, along with the rest of the world, has endured waves upon waves of infections and multiple variants of the coronavirus. Our healthcare systems were driven to the brink, communities broken up, and people were left hopeless.

Since December 2019 when Civic Force and our partners established the joint emergency team, ARROWS, we have dispatched medical and logistics personnel, provided equipment, and installed trailers for infection prevention to healthcare facilities. Our efforts continued without pause in the second half of 2021.
In June 2021, Civic Force partnered with World Open Heart (WOH) to support their COVID-19 assistance activities through our COVID-19 Emergency NPO Partner Projects. World Open Heart operates the COVID-19 Hotline, a hotline dedicated to alleviating the pressure and guilt of those infected with the virus and their families. World Open Heart is an organization that provides consultation services for families of criminals that face guilt and discrimination. Although COVID-19 patients and their families are not criminals, many feel discriminated against and are made to feel guilty. Ms. Kyoko Abe, the head of WOH, decided to launch the COVID-19 Hotline because she could draw from her experience helping family members of criminals. She learned about peer pressure from Mr. Naoki Sato who authored a book on peer pressure discussing a unique culture in Japan that forces people to apologize to others for being infected and advocates that COVID-19 patients should not feel guilty.
Two heavy rains – one in Atami (July) and another in Kyushu (August) - caused flooding and landslides that evacuated thousands of people, damaged homes, and hurt livelihoods. At evacuation centers, there is danger of having to be within close proximity with many others which increases the likelihood of passing COVID-19 to another. In response, Civic Force procured and distributed preventative supplies including hand sanitizers and masks. Between June-September, Civic Force received 11,064 hand sanitizers from L'Occitane and distributed them to municipality and evacuation centers during the disasters and to local households and aid groups through 12 partner organizations.
Looking to the new year, people may feel exasperated and fatigued from what seems like a never-ending pandemic. It is during these times that we must band together stronger and rely on one another to alleviate the weight. Civic Force was able to successfully implement our activities in 2021 because of our dedicated staff, partners, and our supporters. In 2022, Civic Force will continue to rely on your generous support so that we may continue to provide timely and effective assistance wherever we are needed most. Thank you once again and happy new year!