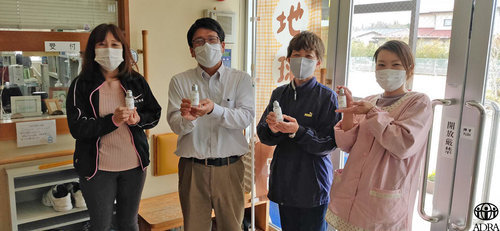 Although vaccination efforts have ramped up during this period, Japan continues to combat COVID-19 with infection rates increasing and decreasing at various times. Civic Force's response efforts are focused on two activities: 1) Dispatching personnel and providing supplies to support affected communities; and 2) Working with local partner organizations in supporting their response efforts within their communities through NPO Partner Projects. Please read on for a summary of our activities in this period:
Medical Teams Dispatched to Medical Facilities in Hyogo and Ehime Prefectures
A joint emergency response partnership including Civic Force dispatched two medical teams to an elderly welfare center and a hospital with COVID-19 cluster infections in Hyogo and Ehime prefectures. They provided medical assistance, training on how to properly use personal protective equipment (PPEs), and zoning.
Distributed Hair Products through 23 Partner Organizations
Civic Force received shampoos and conditioners as in-kind donations from Nature Lab Co., Ltd., a Japanese cosmetics company. Civic Force then distributed the hair products to beneficiaries in need through 23 partner organizations. The 23 partner organizations, including NPOs working in disaster-affected areas and welfare centers, distributed the items at child welfare centers, a soup kitchen for children, and to single-parent households, the elderly, and international students. Many families have experienced economic hardships due to the pandemic and these important hygiene products were sorely needed.
Distributed Hand Sanitizers to Partner NPOs
Civic Force distributed hand sanitizers to partner organizations that support disaster-affected people, victims of domestic violence including women and children, aid workers, nurses, and people affected by the pandemic.
Civic Force x NGO Collaboration Center support Cocochaya
Civic Force and the NGO Collaboration Centger together have supported six organizations. One of the organizations is Cocochaya, located in Hitoyoshi, Kumamoto Prefecture. Cocochaya's activities help bring community members together during non-emergency times and create relationships that can help during emergencies. Community organizations like Cocochaya are key players in resident-centered disaster reduction and recovery activities. As Japan recovers from the pandemic, Cocochaya is working to rebuild the sense of intimacy and fraternity that COVID-19 robbed from our communities.
Supported Mental Health Crises through a Hotline
Civic Force supported World Open Heart (WOH), an organization operating a COVID-19 hotline that receives callers in need of mental health support during the pandemic. The mental anguish that many have felt because of COVID-19 are cared for through this hotline.