Project Report

| Nov 17, 2023
The Start of a New Chapter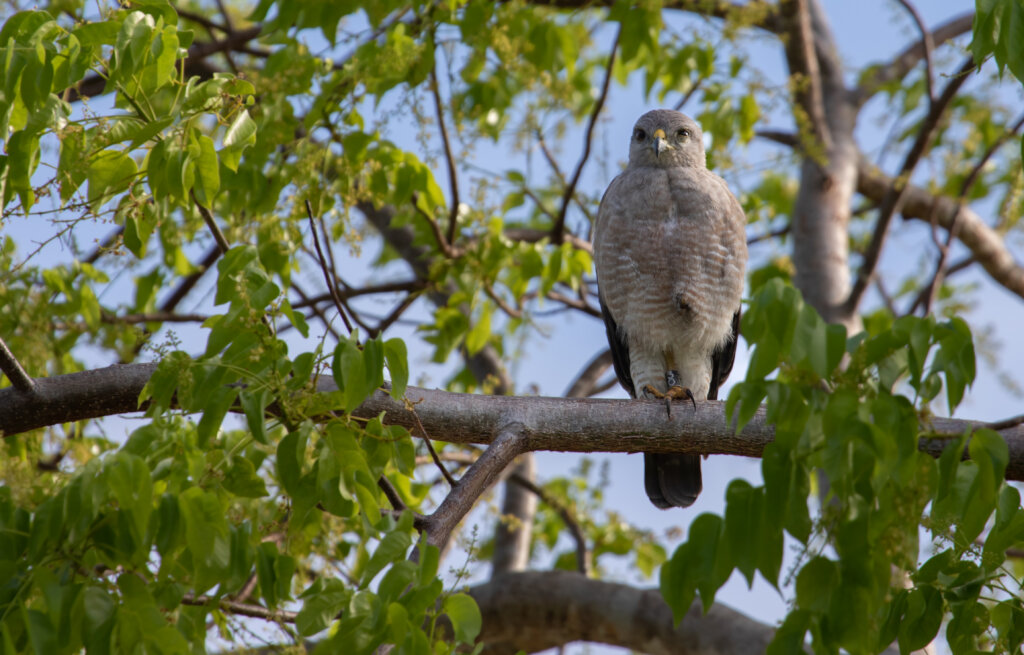 November has arrived and we are in the midst of our preparations for our next season. In these last months of the year, Ridgway's Hawks are not very active, but it is common to see them flying overhead and hear them vocalizing in the area.
We look forward to the upcoming season with much anticipation and hope to continue seeing the population of Ridgway's Hawks grow all around the island of Hispaniola. Our plan is to continue monitoring the populations in Los Haitises National Park, Punta Cana, and Aniana Vargas National Park. We will focus our efforts on searching for new pairs and territories in these regions. We will also continue with the releases in the Aniana Vargas for next season as well. We aim to continue supporting our partners in Haiti who are working hard to learn about and conserve the small population of hawks in Les Cayemites.
One of our most important year-round tasks is environmental education and capacity building, to help increase people's knowledge and interest in conserving birds of prey and helping them actively engage in local conservation efforts. During the low season, we are able to dedicate more time to this important endeavor.
This past fall, we hosted two training workshops for a total of 38 participants at the Fundación Grupo Puntacana. The workshop included rural community members, university students, professional educators, and members of the Dominican Ministry of the Environment. Over the 2-day workshop, they learned about Ridgway's Hawks, how to identify birds of prey, as well as the importance of raptors as top predators and bio-indicators. They engaged in hands-on, dynamic learning experiences such as constructing life-sized Ridgway's Hawks, competing in "Raptor Olympics", and putting on a play, complete with costumes, actors, and scenery. As a final project, the participants broke into teams to present an activity they designed to the rest of the participants. They used their creativity and knowledge about raptors to invent board games, dances, and quizzes.
One exciting news is that Marta Curti, who has been with the project since 2006 as charge of Environmental Education has been named the new director of the Ridgway's Hawk Conservation Project. We could not be happier and look forward to all that we will achieve for the conservation of hawks.
Apart from the workshops, we have been concentrating our efforts on visiting known and new communities of importance to the Ridgway's Hawk and its protection. Our teams have talked to more than 500 people in the last few months. They have also focused their time on building new chicken coops to distribute to households where people are losing domestic fowl to depredation.
We have also been visiting educational centers and carrying out environmental education activities in other spaces such as the Botanical Garden of Santiago and the Club Med Miches Hotel.
All of these activities are helping us make great strides in the recovery of the species and we are proud to see how our efforts are bearing fruit.