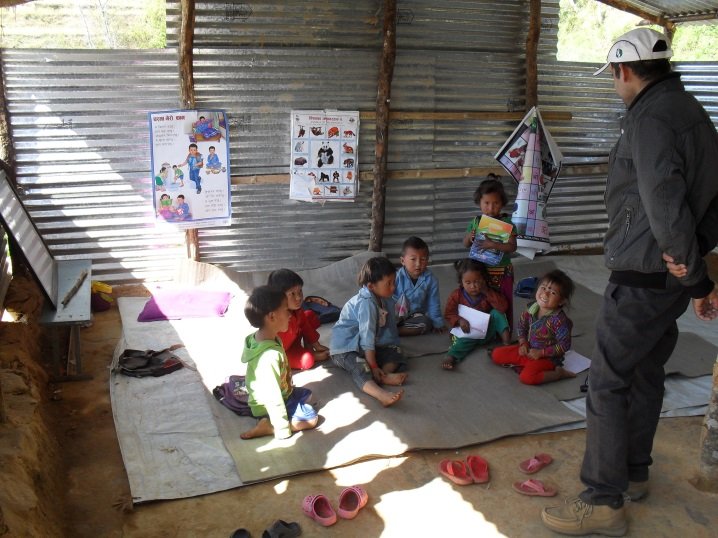 As we start to wind down our work for the year, I am writing to thank you for your tremendous support which is making a real, tangible and lasting difference for so many families in Nepal. Here's an update on our progress in Dhading- all work that wouldn't be possible without your support.

Dhading district, with a population of 340,000, was one of the 14 worst affected districts in Nepal. According to a report by UNICEF completed immediately after the earthquakes, up to 70% of the schools in the district were damaged, affecting 70,000 school children. About 50% of schools were completely destroyed.
To date, 294 Temporary Learning Centers (TLCs) have been established by various organizations for the schools in Dhading. Classes are being held in these TLCs which are made from timber or bamboo with corrugated steel roofing. The TLCs have addressed the immediate needs of the schools by providing shelter from the monsoon rains, which occurred in August and September, in a non-earthquake damaged facility. Unfortunately the type of construction used for these TLCs means that they are badly insulated, providing little warmth in winter which lasts until about February 2016. Schools were thus requesting for permanent classrooms to be built in order to address this problem and most importantly that these classrooms are earthquake resistant.
Concern Worldwide, with your help, has committed to providing transitional shelter support to 10 schools in Dhading district reaching 3129 students and 112 teachers. Over September and November, two field visits were conducted by our technical team and by our partner NEWAH to the selected schools to assess the damage and identify the appropriate shelter activity (ie building new classrooms, demolishing and rebuilding floors, strengthening existing buildings).
Our findings from the assessment were as follows. Earthquake damage to the buildings has varied significantly between schools. Schools with newer buildings made from reinforced concrete frames have fared very well. The older stone masonry buildings with mud mortar are more damaged and a number have collapsed. On close assessment of these buildings, there are a number which have only minor cracking in the walls. As an alternative to building entirely new classrooms we have proposed to repair and strengthen some of these existing buildings. The strengthening work in some cases is cheaper than constructing entirely new buildings and the number of useable classrooms is greater in the long run.
In relation to classroom construction, our partner NEWAH has put forward several designs for new school classrooms using different materials including pre-fabricated polystyrene walls attached to steel framing. Designs are currently being reviewed and finalized. Designs have been made in coordination with input from the District and Village level. On Wednesday, October 4, 2015 members from both Concern and NEWAH met with the Dhading District Education Officer (DEO) to discuss the proposed school projects. The DEO had no objections to our proposed construction projects and will provide the necessary approval when finalized plans are produced. Construction will be earthquake resistant and of high quality.
Looking ahead, we have a very busy next couple of months with construction anticipated to start in February 2016. We look forward to reporting back to you on further progress soon! In the meantime, a very sincere thank you for all the work you've made possible thus far from emergency kit distributions to construction and assesment work. We wish you a wonderful holiday break with family and loved ones!
PS- Here is just one example, from ShreeThala Primary School, one of the schools we are supporting, to give you an idea of the type of needs these schools have.
Shree Thala Primary School is located in Simjung, Dhading, Nepal. There are around 70 children that attend this school between the ages of four and ten. One motivation for coming to school is that they get a free lunch. The school cooks lunch every day for all the students.
After the earthquake that hit Nepal in April 2015, the school was closed for a month. One of the classrooms at the school collapsed during the earthquake. Fortunately the rest of the classrooms are still standing. All three of the stone masonry buildings at the school were given a red sticker which means that they are no longer safe to enter. Daily reminders of the earthquake can be seen on one of the buildings where there are little cracks over the walls.
Following the earthquakes two temporary learning centres made from bamboo and corrugated steel sheets were constructed for the school. Now all classes are held in these rooms. There is no flooring in these rooms so the children sit on a foam mat laid over the dirt.
The school continues to use the old stone buildings for the kitchen, library and staffrooms, despite being given a red sticker as there are not enough temporary rooms. The teachers are afraid that these old buildings will fall down in another earthquake but they do not have any other options. Their priority is to keep the children safe in the temporary classrooms.