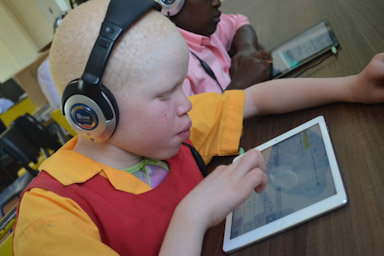 How does a person who is blind use an iPad? It's a simple question that both sighted and blind people frequently ask. The answer: With assistive technology.
The iPad is a visual device that utilizes touch screen technology, which offers no physical feedback. Apple solves this problem for the blind or low vision person with Voice Over, an advanced screen reader assistive technology. As well as, Siri and Dictation to help blind users type, launch apps, and read calendar.
Once Voice Over is activated, a user places a finger on the screen and runs it along the screen's surface. Whenever the finger runs above an icon or static text, Voice Over will read it out loud. What exactly does it read? Everything! A screen reader not only tells users what is visually displayed on the iPad touch screen it also gives information about buttons, links, text attributes, and even describes the iPad holding position. When the user finds what they are looking for, they double-tap and the app, link, setting, etc is activated.
inABLE students at the seven assistive technology computer labs at Thika Primary School for the Blind, Thika High School for the Blind, St. Oda Primary School for the Blind, St. Lucy Primary School for the Blind, and St. Lucy High School for the Blind are becoming familiar with the iPad screen layout and device navigation.
Additionally, over 60 kids participated in a 7-day book camp to improve their iPad navigation skills at the inaugural Peer-to-Peer Training Computer Technology Camp hosted by inABLE on April 20th - 25th at the Thika Primary & High School for the Blind.
To appreciate the response to iPad learning, please read the student notes below:
Student #1 "These iPad are good to us. I have discovered that a blind person using an iPad is not hard. Our teachers are very encouraging. Learning iPad has a lot of benefits like increasing our knowledge about technology, encouraging our hope on technology, and giving us world access network. I have taken notes on everything and when I buy an iPad for myself am sure I will be able to use it."
Student #2: "On Monday morning [at the inABLE technology camp] I was very happy to have iPad in my hands. It was my first time to learn iPad, I did not understand how a blind person can use iPad without sight. I thank God for giving me this chance to be in Thika learning iPad. In iPad I have learned many commands that you must use for your iPad. It's not hard to be taught iPad.
The training of iPad is making us feel accepted in our world, mostly in our country Kenya. InABLE- thank you for giving us good instructors. We can understand them well and they are ready to help us any time there is a problem in learning."
Student #3: "I just can't hesitate to say that am very pleased with the iPad lessons we are taking here at Thika. They are both interesting and fun. The new updates we are being given about the changing technology are so much impressing. The teachers teaching us are professionally trained, understanding and cheerful. In fact I couldn't believe that I can use touch to operate an iPad until it was practically proved to me."
Links: