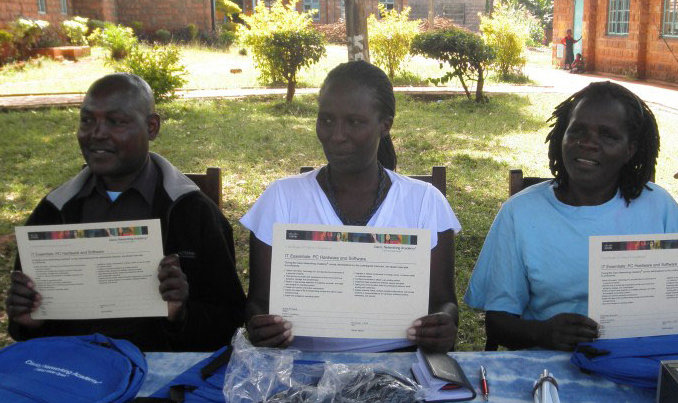 Last February 2012, inABLE entered into partnership with Cisco Networking Academy to offer Cisco IT Essentials to our blind students. We began this exciting new opportunity with a pilot class consisting of four faculty students, two blind and two sighted. The program took almost a year to complete, and we are proud to announce that , Paul Ngechu, Ann Konana, and Christine Kayathi recently finished the challenging course work required to receive the Cisco IT Essentials completion certificate.
To recognize this achievement, a Cisco team led by Regional Manager Hital Muraj, who traveled from South Africa, came to the Thika School for the Blind to award the certificates to our faculty graduates.
We celebrate this momentous occasion by involving the whole school in the certificate award ceremony, including some teachers from the Thika High School for the Blind. The event was a very inspirational and motivating for the two schools and now, after seeing the learning benefits the program, every teacher wants to join the program. The new deputy who joined the school this term said, "So you guys have set up a gold mine in this school, now I can see why God brought me to this school and I will enroll and be like Kayathi"
The graduates were given Cisco branded bags and T-Shirts together with the Head teachers and the instructor. We extend our sincere gratitude to Cisco, our guests, and the Cisco Networking Academy.
Congratulations to – Christine, Paul & Ann- for earning the Cisco Networking Academy certificate and leading the way for our students. Plans are underway to offer this Cisco IT Essentials certificate program to Thika School for the Blind High School students.
As always, we extend our appreciation to Cisco, and our most capable ABLE Instructors - Thanks for your support and for making the day a success.