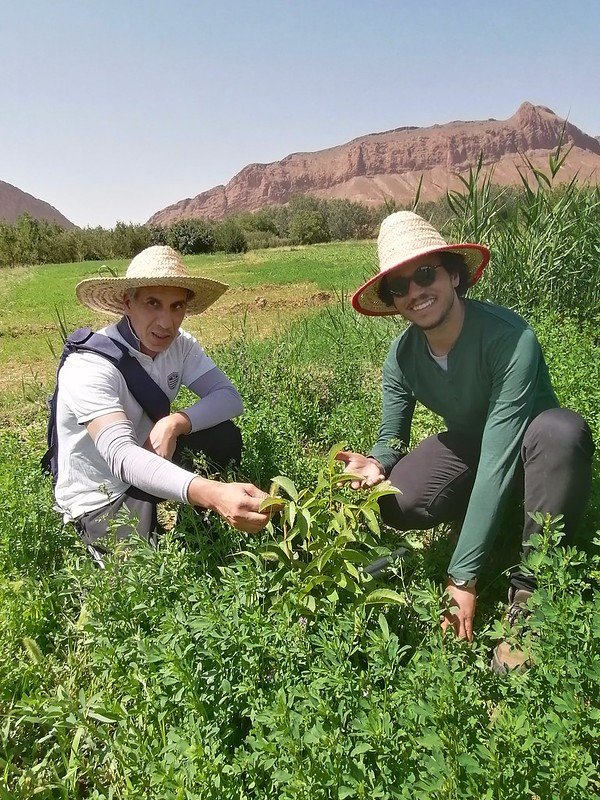 The High Atlas Foundation (HAF) has been working with farming families in Morocco since 2000 to plant trees for sustainable agricultural development. The first question we are often asked is "Why plant trees?" Let us address that question as well as exploring other questions about tree planting in Morocco: who, where, what, when, and how.
Community-managed tree planting is of vital importance to the nation. As noted by former-volunteer and HAF Director of Projects since 2014, Amina El Hajjami, all nurseries that HAF supports are created and managed by members of local communities. When we grow trees in this inclusive way, we engage with everyone in the community: the youth as well as the men and women. When we plant with a participatory approach, we are also planting the "seeds" of dialogue, collaboration, and eventual financial independence. As noted by HAF President Yossef Ben-Meir, this can result in projects that do not involve trees: clean drinking water, school infrastructure, building a cooperative, preventing soil erosion, and more.
Typically, HAF works with communities in remote mountain regions, places where they experience marginalization, social and environmental difficulties, where they have minimal infrastructure, lack of opportunities, and have not benefited from outside assistance. We begin by asking not which types of trees, where they will be planted, or who will be responsible, but first asking community members about their daily challenges and their hopes and dreams for their future. Because these are traditional areas, we might initially sit in gender-separated spaces, but this can change as time passes.
We begin with an empowerment workshop over a period of days even before deciding on projects - something we call an "Imagine Empowerment Experience." This is important because many rural people, especially women, are uncomfortable communicating their ideas publicly, so we must address this first and empower the residents to understand and assert their voice. Most of the women have not attended school, thus being unaware of their rights. The 4-day, 32-hour empowerment workshop includes seven areas of daily living: emotion, relationship, money, body, work, sexuality, and spirituality. In all these areas, women need to have clear visions of how to be stronger and develop themselves: for instance, the relationship between their personalities and money, developing a closer relationship with their bodies, often used for a lot of heavy work. Through this, the women learn how to contribute their ideas. We then find that most of these women want to create projects, cooperatives, or associations. At that point, they are ready to participate in the multiple follow-up sessions.
When we follow-up with community planning meetings, we prioritize, map, and visualize the future that the participants seek. We create an action plan. One strategy is mapping the natural resources in the region - water, trees, and so on - and then adding social mapping of the local infrastructure, such as hospitals. Another technique - dream mapping - allows the men, women, and youth to talk about their different visions for the community and to create a map or picture of what that will look like in reality. We draw because of the low literacy rate pervasive in these communities. We also have many strategies for determining the community's needs and priorities. From this, we plan how to support them and write proposals for our funding partners.
All of these workshops and meetings occur before we know about the role of tree-planting in the community. The process involves self-discovery, confidence-building, building our sense of belief, assessing all of our options, analyzing our challenges, doing it collectively, building consensus, and sharing information. By the time the trees get into the ground, imagine how many days and weeks and hours and energy and the people and thoughts and partnership and all these things have to happen for this one tree in one place to get into the ground.
So, why do the rural people of Morocco consistently prioritize fruit trees as an important initiative for them. The answer is, in part, that 80% of their income is based in agriculture. Seventy percent of agricultural land is covered by corn and barley, yet this only generates 10-15% of agricultural revenue because of the low price and the importing of these staple crops to meet demand. This is no longer as viable for them as it once was. In the past, people mostly worked for survival, but now they have new priorities, like supporting their children's pursuit of education to enhance their life situation. People who add fruit trees on their land have more income than those who plant only subsistence crops, but they cannot give up arable land while seeds take a few years to mature, which would leave them without even the low income they earn from their crops, so the nurseries on land lent in-kind by public, civil, and private agencies are needed. It is a mercy - Rahma - to make the transition gradual. It also requires a lot of water to coax a tree sapling from a seed, water that is often scarce in places without reliable irrigation systems.
We also plant trees because of its positive environmental impact. The trees reduce erosion as rain moves soil down the mountain and water drains directly into the rivers. With trees, the soil absorbs and retains the water. It also cleans and strengthens the environment more than barley and corn could ever do by sequestering carbon dioxide. All the trees that we've planted from December to March are organic - walnut, almond, pomegranate, fig, grape, carob, argan, and more - a total of 13 varieties. We see that communities allow land to regenerate without using it for their herds, giving it the chance to revitalize. In places like Ouezzane, this allows the natural growth of different varieties of fig, as much as 10 endemic types.
HAF uses donated land in rural regions nationwide to plant seeds in our 11 nurseries, which are run by community partnerships and cooperatives. HAF has different partnerships that enable us to use land at no cost: agreements with the Center for the Protection of Children in Fes and in Oujda; the Departments of Water and Forests in Marrakech and Tetouane; a cooperative and an association in Al Haouz and Azilal; one in the Salam school in Ifrane; with a women's association in Toubkal of Taroudant province; with the Moroccan Jewish community in Tamsloht and Ouarzazate; and also with University Sidi Mohammed Ben Abdellah in Fès. Truthfully, we have more land than we have finances to plant.
We are grateful to the partners who help us finance this work. ECOSIA is maximizing planting in these nurseries and supporting monitoring. The National Initiative for Human Development helped fund a mountainside nursery at a thousand-year-old Hebrew saint's burial site, land donated by the Moroccan Jewish community. We are excited about a newly-signed partnership agreement with an innovative, new business - Moroccan Trees - and also solar panels and water delivery systems funded by National Federation of Electricity, Electronics and Renewable Energies. The USAID Farmer-to-Farmer program is absolutely critical in providing technical and capacity-building support for the cooperatives. The Bureau of Oceans and International Environmental and Scientific Research in the U.S. State Department's environmental education division, and many private donors, have helped serve Moroccan communities as we are currently able.
It took the foundation 11 years, from 2003 to 2014, to plant its first one million trees. To symbolically mark that achievement, we began our annual planting day that now takes place on the third Monday in January each year. On planting day, most of us at HAF work in groups of staff and volunteers (international and Moroccan) to plant trees with the communities and associations, schools and cooperatives in all the provinces where we work. On that first, glorious day, people were planting until 2 or 3 in the morning. It marks the New Year and Martin Luther King day, which is known as the day of volunteering, giving, unity, diversity, peace, compassion, mercy, and love. It's a joyful day for planting. This year, in those 11 nurseries, with community partners, 1.4 million seeds were planted, and we are supported by the partners.
Why plant trees? The High Atlas foundation is dedicated to valuing, processing, certifying organic, building cooperatives, and all the entire value chain. We are with the young people who are part of these environmental education activities. As we plant trees, we see life-long memories that are powerfully informative to school children all across Morocco and the cooperative members. We are here to be of service to the farming families, rural communities, and urban neighborhoods that invite us to be part of their development experience.
Anyone can now participate in tree planting by buying online from our e-store as a donation or in honor or memory of someone - even one tree can make a difference. We are not a private entity to generate revenue or profit but to supply trees to farmers and be able to have a seed to plant anew, for a bright, healthy future.