Project Report

| Apr 28, 2020
RURAL WOMEN IN THE HIGH ATLAS CONTRIBUTE TO CLIMATE CHANGE REDUCTION BY PLANTING FRUITS TREES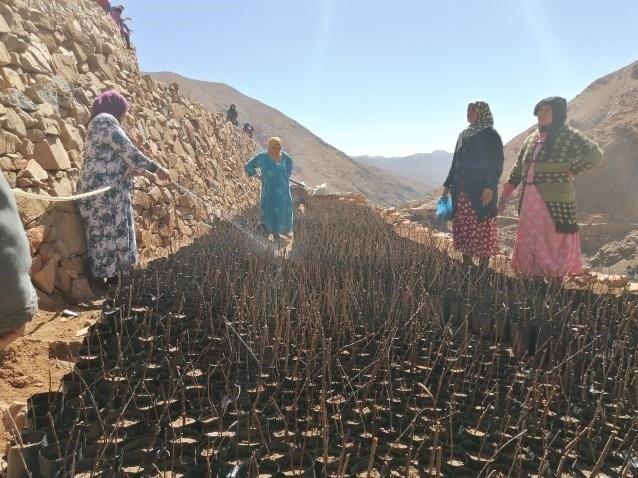 Climate change is one of the major issues that humans face in this day and age. It is a phenomenon that has social, economic, and political impacts. As the progress of a community is directly correlated with the advancement of women and their capability to participate in economic, social and environmental development, women around the world are contributing to the reduction of climate change and its effects.
Moroccan women play a crucial role in the development of the community on a local and professional level. They support the reduction of climate change, for example, by working in agriculture. The High Atlas Foundation works with two groups of women in Toubkal National Park in the High Atlas Mountains who are engaged in planting organic fruit trees--almond, walnut, olive, and cherry trees-- in two separate nurseries.
Working with women in the High Atlas Mountains
Thanks to a project financed by the United Nations Development Program, the High Atlas Foundation facilitated the creation of an organic tree nursery, the implementation of a new well, and the organization of a participatory meeting and training concerning environmental protections with the farmers and the men's association in the village of Tassa Ouirgane in Al Haouz Province. The project incorporated a crucial gender approach that is both encouraged and supported by the National Coordinator Microfinance Program UNDP-FEM Morocco.
After the project was completed in October 2019, HAF and Ecosia committed to the vision to plant 40,000 almond, walnut, and olive seeds and cuttings in 2020. The nursery is managed by the High Atlas Foundation and five members of the women's cooperative in Tassa Ouirgane. The women have also benefited from a participatory approach meeting as well as empowerment workshops. They have established cooperative policies and procedures, and participated in democratic voting for decision-making in the cooperative. They also learned more about cooperative management, how to plant seeds and irrigate fruit trees, and how to create and implement a strategic plan. In addition, they received visits and workshops about the needs of the nursery by an American expert that is part of USAID's Farmer-to-Farmer Program.
In January 2020, the High Atlas Foundation, with Ecosia, helped 27 women in Aguerzrane village in the Toubkal commune of the Taroudant province to create a nursery of 30,000 organic almond, walnut, and cherry trees. The women in this village benefited from participatory approach meetings, empowerment workshops, and training about creating cooperatives and how to plant seeds and cuttings.
This project, in which women plant organic fruit trees, aims to:
Create an income for the women to enhance their quality of life and for the girls to complete their studies;
Learn how to plant several types of organic fruit trees;
Support the reduction of the effect of climate change by planting trees;
Provide fruit trees to Ouirgane commune, Toubkal commune, and for other Morocco communities;
Exchange knowledge and experiences with other women in other villages and other provinces in Morocco; and
Create a strong personality for the women and the girls and create a great relationship between the women in the villages.
Witnessing Women's Transformations
Even though the women started work in the nurseries just four months ago, and even though they are from rural areas, they have already learned a lot about agriculture for the first time in their lives. They are very happy to work together, and they are starting to feel small transformations within themselves--step by step.
Each time I visited with these women, I witnessed a slight change in their personas. They are more positive and they want to know more. Instead of investing their time and thoughts into the opinions of others, they now focus on their own personal and professional visions.
One of the women was very timid during our first empowerment workshop. When I asked her to share her story with the group, she started to cry. She shared with us that she is divorced and has a daughter. She felt that society viewed her as a bad woman because of this. She admitted wanting to work but allowed her fear of what other people might say about it interfere with pursuing a job search.

After one year of workshops, meetings, and follow up, she is now the leader of one of the groups working in the nursery. Not only that, she is also responsible for the management of the nursery along with her colleagues as well as the payroll for male caretakers. She is very happy about the way her confidence and self-image have improved through this experience. Through her involvement in the tree nursery and the empowerment trainings, she has begun to claim the power she has always harbored within her and feels more comfortable with who she is.