Project Report

| Feb 27, 2020
NURSERIES IN THE MAGICAL HIGH ATLAS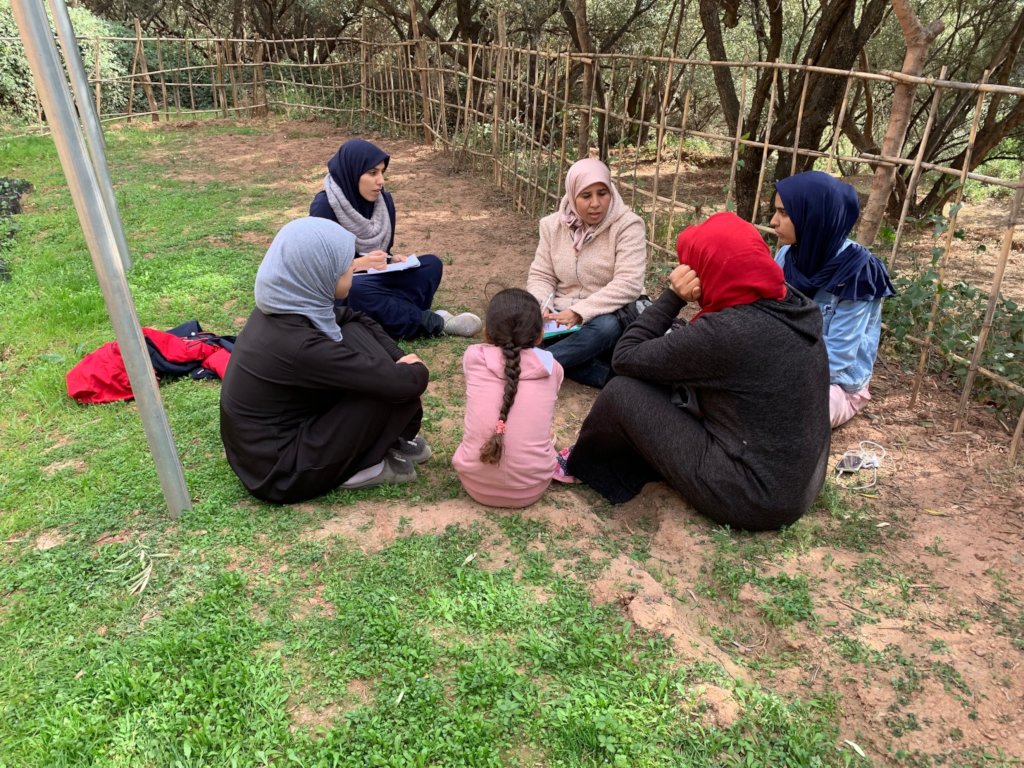 The rocky terrains of the High Atlas Mountains are hard to navigate even for the most seasoned motorists, but our driver Hassan, a native Amazigh, knows by heart all their twists and turns. On our way to Tadmamt, he was humming to the relaxing melodies by Johnny Cash on the radio, while guiding the car on the ground with such tenderness as if he were stroking off the wrinkles on Grandma's face. We chatted on and off. He told me that he was a taxi driver for 25 years until five years ago, when he quit and started working for the High Atlas Foundation. "My life has changed so much since I took this job," he remarked as he made another turn on the edge of a cliff, "For the better. Everything's calmer now, and more stable."
Our first stop was a nursery for walnuts and almonds. The nursery was already perfectly set up; the trip was just a routine check on its progress. There were 200,000 saplings in the nursery. On the higher patch of land grew the newly-planted saplings, still accumulating power to break the ground, while on the lower patch you could already see, here and there, tiny branches sprouting up in the plastic bags. A drip irrigation system was installed on both patches, and there were four technicians to make sure that everything runs smoothly.
Amina, our project manager, was talking to the farmers in Tamazight as the rest of us sat down for a tea break. One of the farmers cracked open some walnuts with a stone to serve as snacks. He was clearly skilled at the task, aiming at just the right angle and always succeeding with the first attempt. Over tea, my fellow volunteer Zineb, a young Moroccan with a degree in biology, told me about the incredible biodiversity in the High Atlas Mountains – all kinds of plants grow here, from cedars to kermes oaks. "The mountain bears more treasure than it receives credit for," she said before we left.
Our second stop was also a nursery, and it was run by women. They received training only 19 days ago, yet they already managed to plant 14,022 seeds of olive trees and carob trees in the ground. Before they took up this occupation, these women, some of them as young as 18, were spending most of their time home, doing pretty much nothing. Right now, they have become a trained team of nursery workers and were preparing themselves for the intensive up-coming tree-planting that was no less than a battle against time.
The strategic council that greeted us that day was comprised of one older woman and two young girls in their early 20s. The objective of the day was to devise a plan that would somehow make possible the planting of 15,000 olive trees and 10,978 carob trees within March. It was some sophisticated operations management with many variables: they had to figure out who does how much of what at what time. To make matters worse, the attendance couldn't be taken for granted – some women were still reluctant about joining, presumably encumbered by certain social expectations.
"We'll just make two plans. One for when they show up, another for when they don't," suggested Amina, our project manager, who was undaunted by the situation. She just pulled out a notebook and drew up two schedules.
Tree-planting takes more than two hands and a good intention. It requires hard work, extensive knowledge, as well as careful planning. The women at the nursery have to procure enough plastic bags, fill them with soil before the seeds arrive, and soak the seeds in water to filter out the empty ones. And this is only the preparatory work before planting. Since all HAF's co-ops abide by the organic principles, they will also have to prepare compost and hone their techniques in organic farming. But of course, they don't have to go through all this by themselves; HAF will assist them throughout the process.
What started out as spontaneous workshops would soon turn into a fully-fledged co-op. Amina informed them about the two options: they could either receive compensation at the year's end depending on the number of trees they successfully grow, or they could opt for a monthly "budget" instead. In either case, HAF would provide them with all the materials needed and conduct regular trainings. Still unsure about their newly acquired tree-planting techniques, the women chose the latter. "Next year we will switch to the first option," the older woman said with confidence.
By the time we got back, it was nearly eight o'clock. "A demain," Hassan said to me with a gentle smile. His lined face reminded me of the mountains, of their solemn presence and remarkable radiance. Her strength and grace becomes that of the people she breeds, and through them she lives, with infinite energy and all-encompassing love.