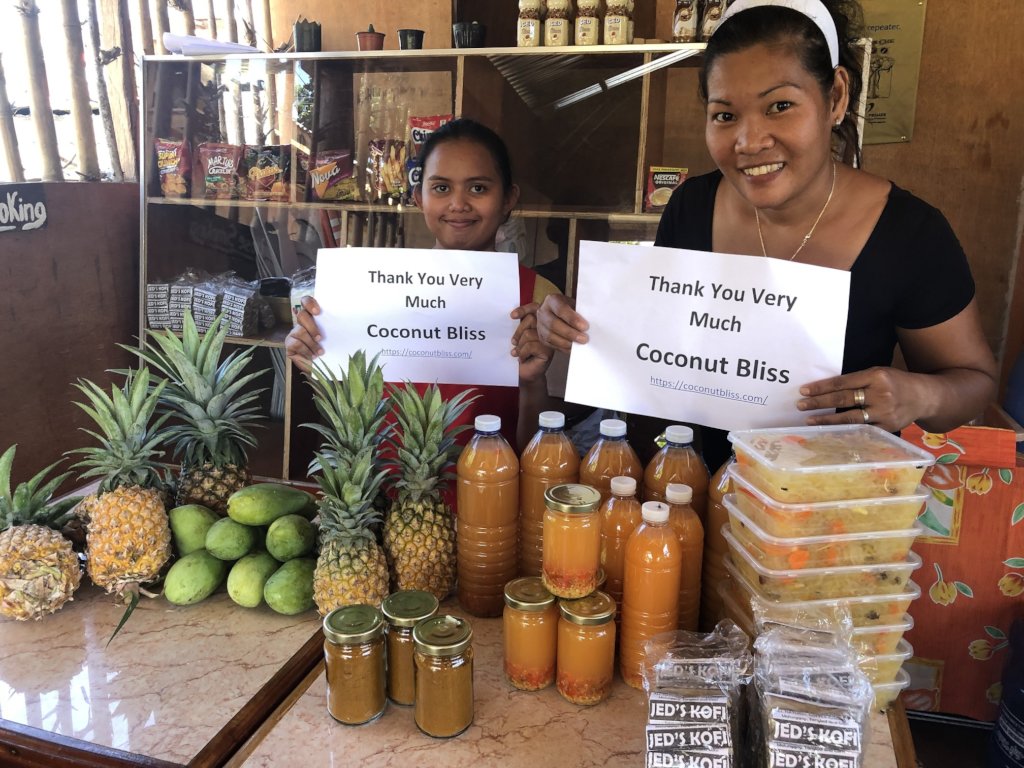 Dear Friends,
Warm greetings and thank you very much for your generous support to our initiative improving the livelihoods of small-scale coconut-based women farmers. We are very thankful that the first rains have arrived after 5 long months of severe drought caused by the El Nino phenomenon. Scientists say that the Philippines is one of the countries on the front list of those that will be affected by climate change. With this initiative, our focus is in providing a wide array of livelihoods that women can do in order to increase their incomes aside from the harvests that they get from coconut nuts, namely copra and charcoal. Copra prices have been affected these past few months because the competition which is palm oil is cheaper.
This reporting period, after successfully producing vinegar, organic coffee, turmeric tea, coco-coir that is used in the production of organic fertilizer, cacao chocolates, vegetables, bananas and pineapple that can be grown under coconut shade, we assisted the women's association that we helped organize in scaling-up the marketing of their products. Production is one process but we found out that marketing also involve a lot of hard work, starting from making sure that the packaging is at par with the competition, designing attractive labels, promoting the products, establishing competitive pricing and engaging vendors to market the products.
Our strategy is to start local, distribute and sell our products in stores, restaurants, gas stations and in week-end market days. We are starting with vinegar, spiced chili, organic coffee, turmeric powder, papaya pickles, mango, pineapple and papaya. The women's association are now able to display and sell their products in 56 outlets in 3 municipalities here and they hope to expand soon.
One of the opportunities is the production of Virgin Coconut Oil (VCO) and scented luxury bath soap using coconut oil as the main ingredient as well as scaling-up chocolate production from cacao which grows well under coconut shade. The need is for a cold-press machine, heavy-duty all purpose mechanical dryer and chocolate roaster and grinder. A micro-project is posted separately for this in order to generate interest from donors. The link is, https://www.globalgiving.org/microprojects/coconut-product-processing-and-marketing-equipment/
Very sincerely yours,
Cora