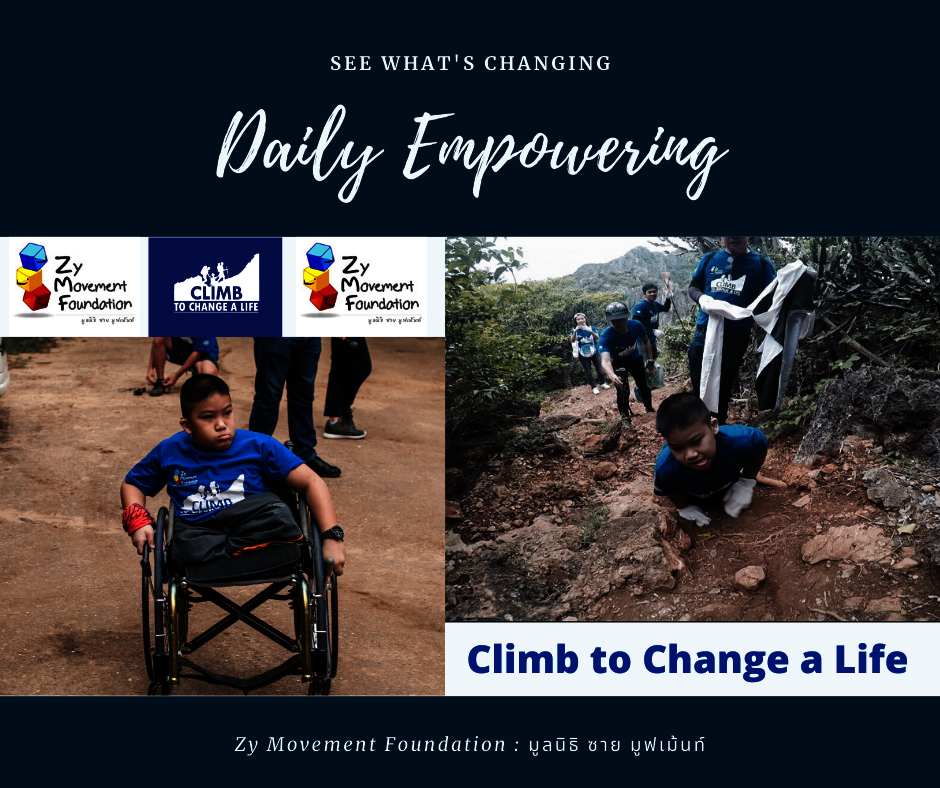 PEOPLE WITH DISABILITIES LIVES MATTER
The main objectives for the Climb to Change a Life projects ;
- to empower children with movement disabilities and their family to have confident of their real potential to become a DIFFERENTLY-ABLED,
- to raise public awareness for society to see person with disabilities in the different way – DIFFERENTLY-ABLED
We have decided to postpone our plan of the 20th Climb to Change a Life to prevent the safety of our champions and participants during the COVID-19 pandemic until the Vaccine is ready.
However, according to the national report that the contagious rate in Thailand are in good control, Zy Movement Foundation has re-planned to execute the 20th Climb to Change a Life to be held in late October, under the campaign People With Disabilities (PWD) Lives Matter.
Zy Movement Foundation, in collaboration with Firefighter and Hotel Industry, will organize the "CTCAL - PWDs Lives Matter" project to raise awareness of EQUITY, led by the safety standard of all lives in high buildings.
By bringing 5 children with movement disabilities Climbing the fire escape of top 5 building in Bangkok accompanied by Fire Fighters team together with another 50 children with movement disabilities in 10 provinces in Thailand with help from 250 volunteers to achieve their CTCAL locally.
The campaign will continue to make the impact of CTCAL and to build public awareness on friendly design for all lives with support from your contribution.
We are in process of preparing the campaign with our partners, in the mean time, we are promoting the awareness to our potential champions and supporters to be ready to join us once the campaign start in August 2020.
Please stay tune for our update and be proud of your great contribution to CHANGE A LIFE !