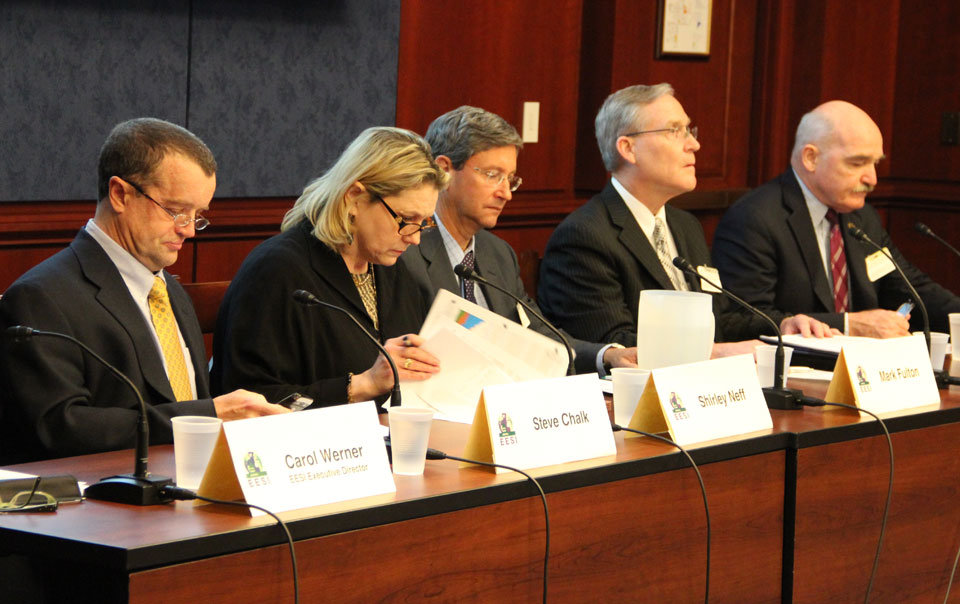 You have already made a difference in helping the new Congress better understand energy and climate issues. At the start of 2013, the Environmental and Energy Study Institute (EESI) worked diligently to gather contact information for 83 new representatives, 14 new senators, and their staffs. This is an incredibly large class of freshmen lawmakers who need fact-filled information and compelling stories to help make sound decisions.
EESI's staff is meeting with these new policymakers on Capitol Hill to introduce EESI as a non-partisan resource for information on energy and climate issues as they are tasked to make decisions affecting our energy and natural resources with limited federal dollars. So far this year, you have helped EESI organize two briefings on renewable energy and climate change. Of course, more briefings are in the works, thanks to you and others who make this work possible.
EESI and the American Council On Renewable Energy (ACORE) organized a briefing with speakers from the Department of Energy, Deutsche Bank Asset Management, and the Department of State about the important and growing role of renewable energy in America. Renewable energy resources – including water, wind, biomass, geothermal, and solar – are abundant and geographically diverse across the United States. These sources are used to generate electricity, provide thermal energy, fuel industrial processes, and produce transportation fuels. Use of renewable energy has grown rapidly in recent years. The experts explained that costs have decreased substantially.
The speakers stressed to the packed room of more than 150 attendees that renewables are no longer an alternative but part of the mainstream, accounting for almost half of new electric generating capacity last year. In 2012, installation of wind generation capacity outpaced that of natural gas. In 2008, the Department of Energy set a target of reaching 20 percent of U. S. electricity generation from wind power by 2030. The speakers reported that the U.S. is on track to meet the goal.
To provide near-term climate change mitigation and improve public health and food security, EESI and the United Nations Environment Programme organized a briefing to discuss international efforts on another key topic: to reduce emissions of short-lived climate pollutants. While the most common greenhouse gas is carbon dioxide, EESI's briefing helped lawmakers understand that there are other, far more potent greenhouse gases that contribute to nearly half of the global warming effect. It also showed that cutting these pollutants now – some of which last in the atmosphere for only a few weeks – can do a lot to slow the rate of climate change in the short term. Speakers included a leading climatologist from the NASA Goddard Institute for Space Studies, the Director of the United National Environment Programme Regional Office for North America, the Senior Environment and Energy Policy Advisor for Senator Tom Carper (D-DE), and the State Department's Deputy Director of the Office of Environmental Quality and Transboundary Issues.
The standing-room-only briefing began with an overview of the primary types of short-lived climate pollutants – black carbon, methane, tropospheric ozone, and hydrofluorocarbons. Major sources of black carbon include inefficient biomass cooking stoves, diesel and twostroke engines, and openairvented coal furnaces. The largest source of methane is oil and gas production. Tropospheric ozone, the primary component of smog, is the product of the atmospheric reaction of methane and a number of other pollutants. Hydrofluorocarbons are a group of chemicals manufactured for use in refrigeration, insulation foam, and aerosols.
Speakers outlined the impacts of short-lived climate pollutants on the climate and public health. They provided an update on the progress of the international Climate and Clean Air Coalition to Reduce Short Lived Climate Pollutants as it nears its one-year anniversary and explored how the coalition represents a new frontier for international cooperation on climate action. The briefing highlighted the huge benefits of acting to reduce these pollutants; for example, the audience learned that for every dollar spent complying with the Diesel Emissions Reduction Act, the United States receives $13 in health and economic gains. Methane mitigation techniques can save up to $3,500 per ton reduced. The majority of measures cost less than $250 per ton, a small price, considering the benefits.
EESI has definitely noticed an uptick in interest in climate and related topics on Capitol Hill. And, of course, President Barack Obama emphasized the need to keep the economy on the right track as it regains its strength and creates new jobs in his State of the Union speech. He also reiterated the critical need to address climate change in both his Inaugural Address as well as the State of the Union. EESI shares these goals and believes that they are inextricably linked. Avenues that show particular promise for bipartisan agreement are reducing short-lived climate pollutants, such as black carbon and methane, phasing out hydrofluorocarbons and making investments in energy efficiency.
EESI will be highlighting the benefits of energy efficiency in the coming weeks and months, with your continued support. These are just a few of the aspects of energy and climate policy our nation's policymakers need to take on. With your help, EESI will continue to showcase energy and climate issues for policymakers that will enable a transition to a sustainable economy and protect the health and safety for the next generation. You are helping Congress play a more effective role in the global response to climate change. You are helping us bring information on better buildings, transportation, energy technologies, and more to the Congress and the public through our briefings, email newsletters, and personal relationships with Congressional offices and key stakeholders. Thank you so much.