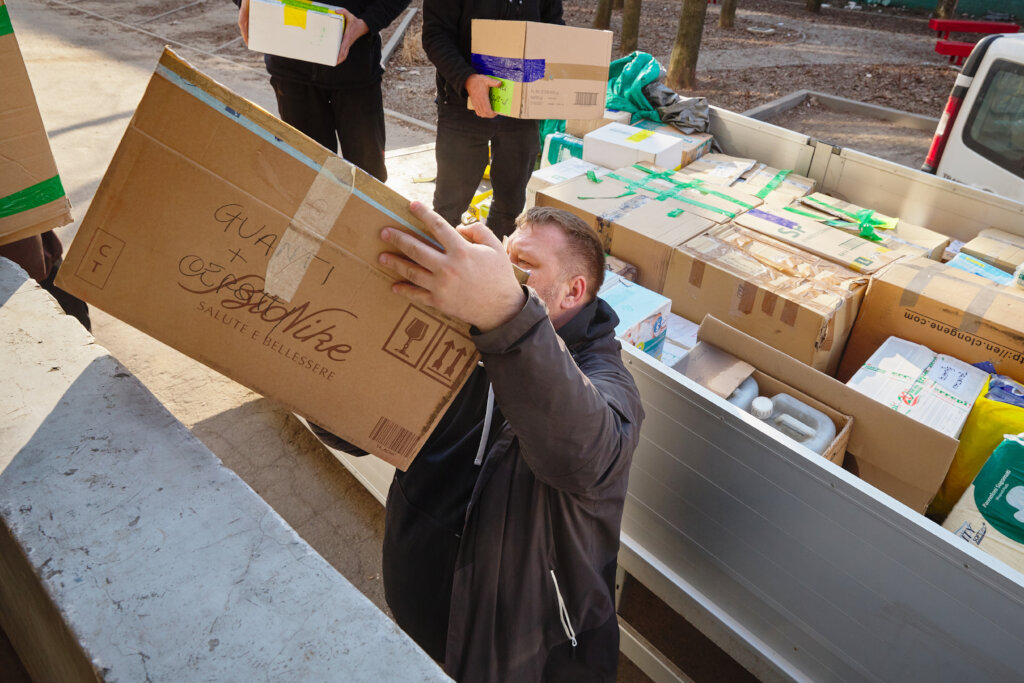 The war in Ukraine has now raged on for over a month, and civilians have suffered the most. According to the United Nations High Commissioner for Refugees, over 10 million people in Ukraine have been displaced from their homes. The use of landmines and explosive weapons has been widespread, and many remain unexploded, waiting to claim unsuspecting civilians as victims.
Your support is helping us scale up our operations to assist the international humanitarian response and address the contamination of unexploded items. We are utilizing our vehicles, supplies, medics, and resources to reach families who need help the most. Read on to learn more about the impact of your support:
Delivering Aid
Our local expertise allows us to help families in areas where few other international aid organizations can reach. HALO continues to support the humanitarian effort on the ground by delivering aid and supplies to local community centers across Ukraine. Because of your support, last week, we delivered three truckloads of baby food, diapers, and household supplies to Kramatorsk, a city in Donbas that is only 30 miles from the frontlines of eastern Ukraine.
Employing Ukrainians
Our highest priority has been to support the welfare and safety of our 400+ locally employed Ukrainian staff. Thanks to the generosity of our supporters, we continue to pay their salaries which allows them to feed and house their families. As we scale up operations, we plan to increase the size of our team and help more locals find meaningful employment.
Keeping Families Safe
Explosive weapons like cluster munitions regularly fail to detonate, leaving unsuspecting civilians vulnerable during and after the fighting. Since March, HALO has been reaching out to civilians to warn them what these hazards look like and how to avoid them. Our messaging has reached over 40 million people in Ukraine, nearly all of the population.
Mapping Unexploded Items & Identifying Safe Corridors
HALO is leveraging innovative technology to locate and map unexploded bombs and rockets. We are mapping areas contaminated with explosives so that humanitarian aid organizations and refugees know where it is safe to travel. It will also allow us to remove the unexploded bombs and rockets when there is a pause in the fighting.
Your support is making a real difference for families in Ukraine, right now. We cannot thank you enough.