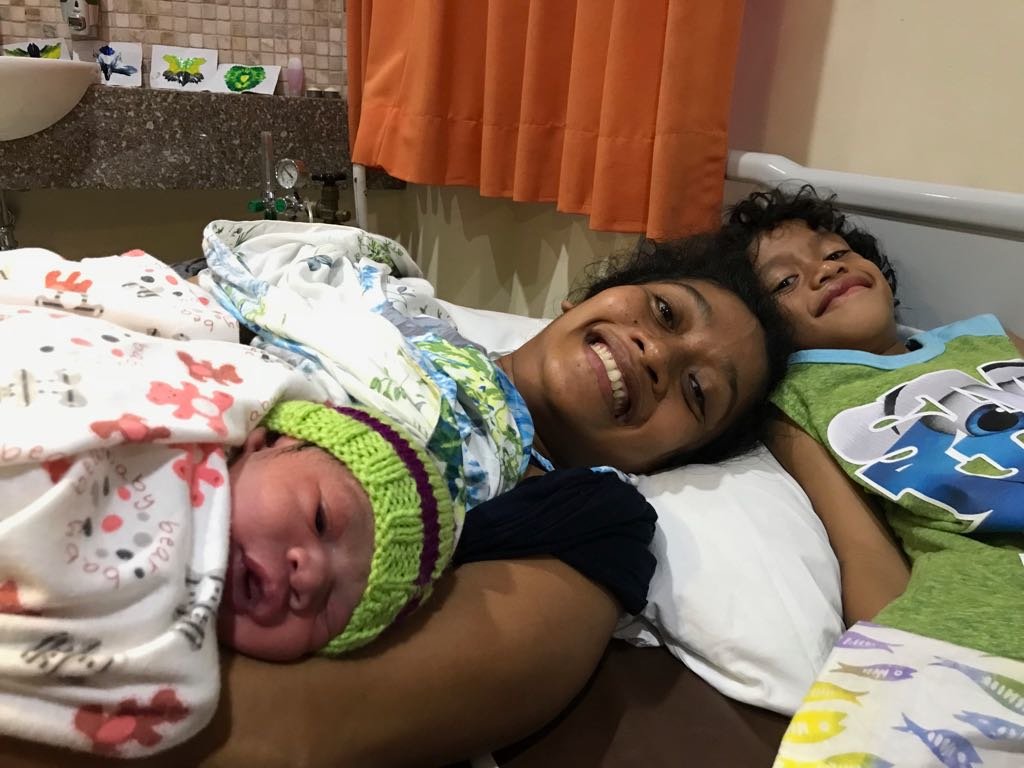 Thanks to your donations the Papua project is fully funded!
The Papua clinic now has a physician on staff and a team of 8 midwives. Next month, the acupuncturist who works at the clinic will go full time, increasing the level of service to more patients.
The impact of having the clinic in the area and running a remote midwife checkup program is becoming evident. The numbers of babies being born in our Papua clinic jumped from 10 in July to 22 in August. Pre-natal checkups rose from 49 in July to 81 in August.
The COVID-19 isolation birth room is finished, and just needs furnishings. This will allow our COVID-positive Moms to have their babies safely at our clinic, without needing to be transported to a hospital.
The isolation room has been a project that our Clinic Director, Rachel Monoach, has been passionate about from the start. She was pressured, against her wishes, into having a cesarean birth with her first child and felt traumatized by her experience. According to Rachel, many indigenous Papuan mothers are given Cesareans that they don't need and are so traumatized that they attempt to deliver subsequent babies at home alone, without skilled care, and often with tragic results. Rachel holds a Master's Degree in Psychology and wanted to find a way to turn her own pain into power.
Rachel worked with Bumi Sehat Bali and donors to estabish the Angel Hiromi clinic in her native Papua. Just as the clinic opened, the pandemic struck and we lost head midwife, Farida Salman, to COVID-19. Rachel has also lost ten members of her extended family this past year. Despite her own grief and losses, Rachel has stayed determined that every mother have a chance to have a gentle birth, and not wind up in a hospital, even if she is positive for COVID-19.
The Department of Health Papua agreed that COVID-19 postive Moms could give birth at Angel Hiromi if an isolation room was built, which has now been completed.
Rachel set up a remote visiting midwife program, and Bumi Sehat midwives travel in canoes and motorboats to the far islands of Lake Sentani, bringing prenatal care, vitamins, baby clothes and health services to remote villages. For many of these mothers, this is the only maternal health care they will receive during their pregnancy. Our midwives will also travel to deliver a baby, meaning the mother doesn't have to try to reach Angel Hiromi while she is in labor.
Now a mother of five children, all but the first delivered by gentle, loving women-to-woman care, Rachel is truly heroic in her efforts to care for other Papuan mothers.