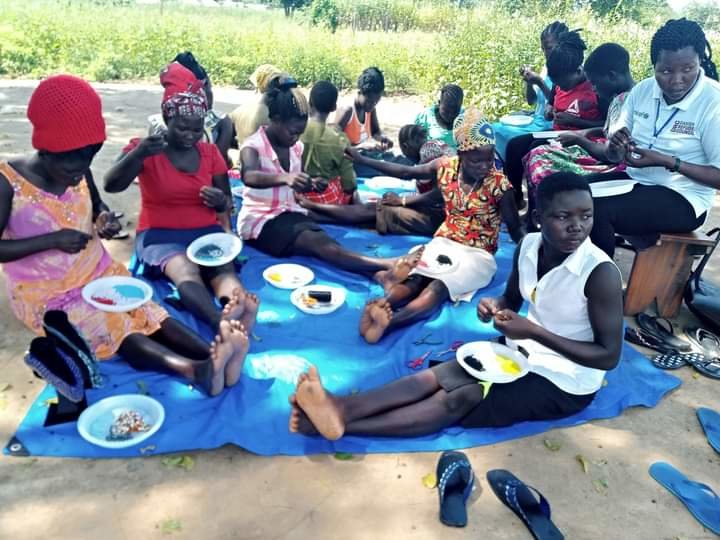 Dear Supporters,
We greatly appreciate your ongoing support for the development centre.
What a year it has been for all of us. Though we are all affected by the global COVID-19 pandemic, we are experiencing it in very different ways. For some, there are high numbers of cases, thousands of people unwell and a strain on the healthcare systems with devasting loss of life. Ongoing lockdowns and school closures continue to disrupt our way of life.
The centre just like schools can't operate normally, All schools were closed in March 2020 and reopened for candidate classes – final year students in primary and secondary school and university – in October 2020 to prepare for their transition exams. The pre-candidate classes returned to school at the beginning of this month, one full year since their last class and in the rural schools, there has been no online learning, no work sent home or activity books to ensure ongoing learning. Many of these children have been at home, working in the fields and at the markets, and the early reports from schools that we work with is that many of these students will not return to complete their education, even at primary level. Early years classes are not expected to return to school until January 2022.
A further limitation to children returning to school is their parent's ability to pay the school fees. With many people out of work or making a smaller income, this becomes a challenge, and families will often have to choose who gets an education, and culturally, boys are more likely to be prioritised than girls. It is even harder for those who survive on subsistence farming, without a regular income.
We are focused on the construction of the centre as we get ready to host pre-primary classes in one year period.
Children have been supported with food items to boost their nutrition status. Trained 25 care givers in bead making.
My name is julian. I am a a care giver, I appreciate the continuity of SCOEN in supporting my child, my husband died 4 years ago, two years living as a single mother I dicovered I have Brest cancer, this broke me down SCOEN Team have helped me live with little thoughts, my worry is my children of which SCOEN has supplemented with support through different supporters that I don't know.
We just want to say many thanks to SCOEN for supporting us and the knowledge they are giving us, we have gained a lot, we are really thanking them for impacting our lives. So bravo SCOEN
Your support is making a difference for future leaders in Uganda l. Our recurring donors are making a continuous impact and we are truly grateful for the ongoing support. If you are not yet a recurring donor, we warmly invite you to consider setting up a recurring donation here toda
Even a few dollars a month will go a long way. Please also share this with your contacts and invite them to consider supporting this ongoing project.
If you have any questions, please feel free to email us at donation@scoenuganda.org