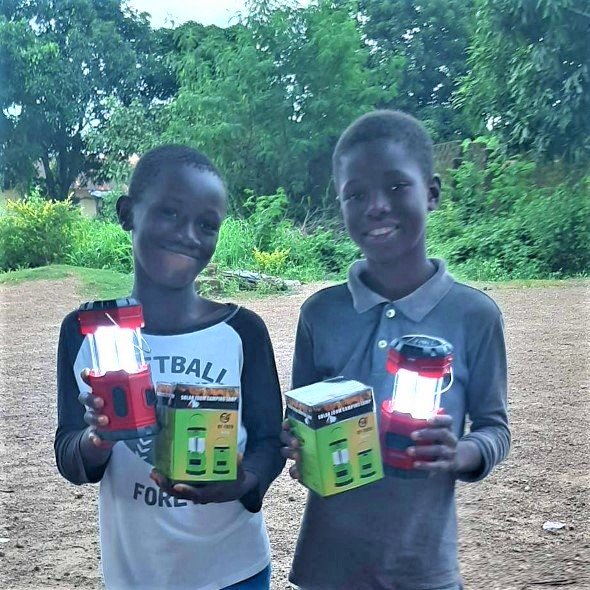 With the continued uncertainty of Covid and the on-going need for resources in this region, this year has allowed for some priority change and growth within the Sierra Cares Foundation. Our continued and blessed partnerships with Airline Ambassadors, Women Graduates, GlobalGiving, our Donors and other sources have really helped us meet some of the basic needs that were due to lock downs, job loss and continued exploitation of many of the participants in our programs. Most of our resources have been crucial to meeting basic needs, but, slowly, we moving forward with incremental and crucial projects.
Recently, our focus has been on school supplies and uniforms for the children in Makeni School to allow them to return to class in September. On August 25th, a large shipment was received by Ibrahim Bangura, our Program Director on the ground. It included solar lanterns, which seem insignificant to many, but for our children, it is life changing. We recognized that without electricity in nearly 90% of the homes, children would end up walking miles to the hospital to sit outside the window and use the light from the rooms, to do their homework. This had many young children out and walking alone late at night, which made them vulnerable to being hit by vehicles, predators (human and animal) and created huge barriers to their educational endeavors. Now, many of the children can stay near their homes and safely do their homework at night. It also allows for families to access light after dark in their homes. These are things we take for granted but are absolutely life changing for our program participants.
We also sent over $2,000 to cover the costs of supplies and uniforms for many of the 68 kids in school. This alleviated the burden of meeting basic requirements for many families particularly those households that are parent-less and the oldest child is actually "in charge" of his/her siblings.
Sierra Cares Foundation has set forth three short term goals that we are prioritizing this 2021-2022 year and will continue to expand on services and resources as we grow. With the focus not only being on School Fees and Supplies, and Educating vulnerable children, we are also looking at how we can support the women in our program, many who have been repatriated back to Sierra Leone trapped in State Sanctioned Slavery.in the Middle East, This is a form of indentured servitude that many women of all ages get conned into by countries promising work in the hospitality industry. The abuses that happen are unimaginable and we have many women recovering from horrific atrocities committed onto them by other people. To date, we have nearly 500 women who have asked SCF for assistance.
To address the growing exploitation and to try to educate families and stop them from sending their women and girls to the Middle East, we are purchasing land and plan to build our community education center. This center will support the community through education and survivor programs: mental, physical, medical support, assistance with shelter, food and education for employment and hope. We will also include a micro loan program for women to gain meaningful and sustainable employment without having to re-enter a job of servitude. This includes working with women to empower them through financial and verbal literacy, how to establish a business and how to support each other in their objectives. We also will have classes that help them to understand their bodies, have mutually transformative relationships and heal as a community to stop the generational cycles of oppression and abuse. We are excited to continue to build a strong program in Makeni that focuses on strengthening vulnerable populations and allowing them to thrive through education, mental and physical health support, and job training.
We are thankful for the continued support and belief in our program from Airline Ambassadors, as we know that it takes a village to support and empower each other so that our women and children recognize that they are worthy, loved and valued.