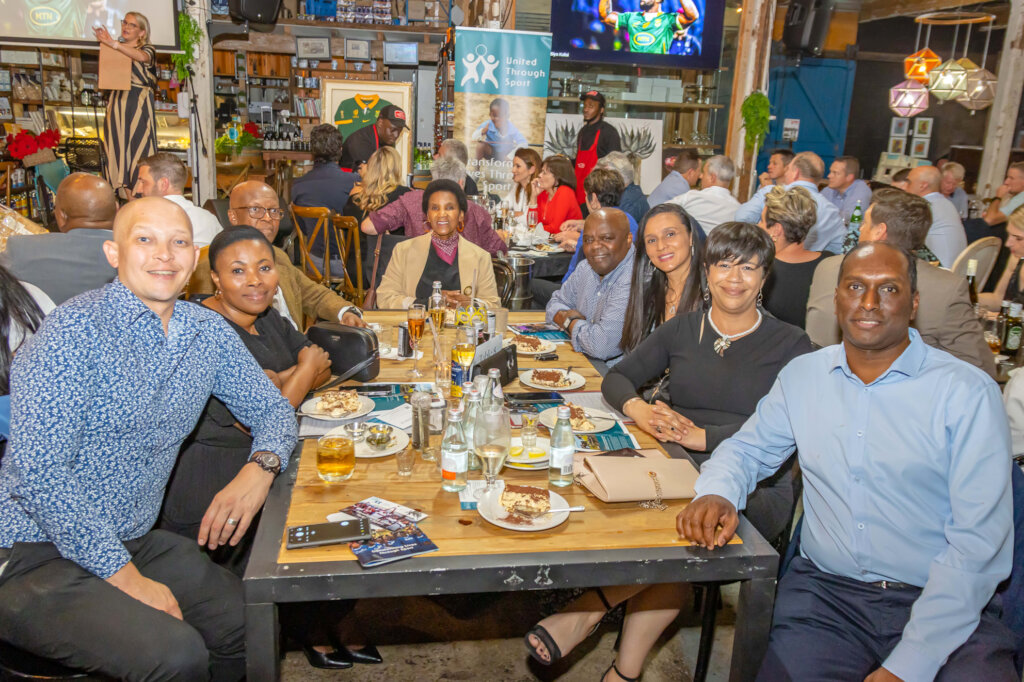 On Wednesday 1st November we held our Inaugural Gala Dinner in Nelson Mandela Bay, South Africa. The event was an opportunity to share the impact of our work with the wider community of Nelson Mandela Bay and take a chance to celebrate some of the success stories of our programmes.

The dinner was attended by a number of corporate companies and prestigious members of the local community as well as programme participants and our staff team and proved to be a wonderful evening of entertainment and celebration.
The evening commenced with a welcome and introduction to United Through Sport by Board Chairman, Qondakele Sompondo followed by a video overview of our work in the communities. After starters were served, we held a panel discussion with Director and Founder, Nick Mould, Operations Manager Nosipho 'Spakes' Xapile and two former programme participants Kaylin Fourie and Mfundo Mpothula.
The crowd were enthralled by the founding story and passion of Nick, but even more so by the success stories of Kaylin and Mfundo. Kaylin who entered the United Through Sport programme when she was 12 years old shared her story of how she was supported through her last years of Primary School, all the way through High School and into University by the charity. This enabled her to get to where she is now; the first in her family to go to University and become qualified teacher, giving back to the same community where she grew up. Kaylin shared the message of how being supported by positive role models in the United Through Sport programme has influenced her to provide the same support for other children from challenging backgrounds who are in the same position as she was 12 years ago.
Mfundo, who was also 12 when he joined the United Through Sport programme, was supported all the way through school and then into doing a vocational qualification in electrical engineering which helped him obtain employment in the IT world. After losing his job during Covid 19, United Through Sport provided him with mentorship and capital support to start his own Computer Tech company. He is now operating a successful business and employs 10 staff members from the community himself. Mfundo shared how United Through Sport not only gave him the skills and financial backing but most importantly the confidence to start his own business and strive for a level of success he never previously considered himself capable of.
The moving testimonies of both participants demonstrated the value of the deep level of support they received from the programme over a long period of time (Kaylin 12 years and Mfundo 15 years).
While the main course was being served guests were entertained by the amazing voice of Zolani Mahola, former lead singer of Freshly Ground, a local band who shot to international acclaim culminating in them performing with pop star Shakira for the 2010 World Cup Football anthem, Waka-Waka. Zolani was beautifully supported by talented local violinist Asive.
The culmination of the evening was the charity auction, featuring a number of donated items from local artists, companies and travel operators including a luxury safari to Victoria Falls River Lodge in Zimbabwe as well as a cricket coaching session conducted by top Proteas fast bowler, Anrich Nortje who was also in attendance. However, the pièce de resistance was a World Cup 2023 Rugby jersey, signed by the winning Captain and local hero, Siya Kolisi. This was particularly poignant as Siya himself comes from the same communities where United through Sport works and through the power of sport he has lifted himself out of those hardships to the pinnacle of professional sport as a World Cup winning Captain. We are now proud to work together with The Kolisi Foundation to broaden the work that we are doing in the same communities to support more young Siya Kolisi's with the opportunities they deserve.
The whole evening was expertly MC'd by South African TV presenter and Laureus Ambassador, Dan Nichol, who was hysterically funny but also a master of bringing the room back to remember the purpose of the evening and the work that we do.
"The night was a huge success with the ticket sales and auction raising a considerable amount of funding to support the sustainability of United Through Sports programmes. More importantly the message of the work we do was shared far and wide, with so many attendees committing their on-going support to the continued development of the disadvantaged communities of Nelson Mandela Bay." Nick Mould, United Through Sport Director and Founder.