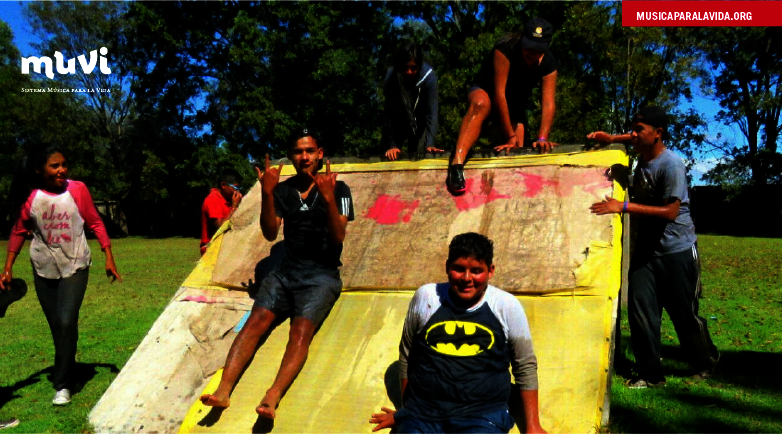 ESPAÑOL
ENCUENTRO ORQUESTA MUVI
A principios de noviembre de 2017, 75 niños, niñas y adolescentes de 6 municipios del estado de San Luis Potosí se reunieron por primera vez en un encuentro para conformar la Orquesta MUVI, selección de alumnas y alumnos del Sistema MUVI.
El Encuentro tuvo lugar en un campamento cercano a la capital potosina llamado Berrendos. Este campamento se caracteriza por ser un amplio terreno con diferente mobiliario para hacer actividades de recreación al aire libre. Tiene una alberca, un río artificial para practicar kayak, un área de obstáculos con lodo, canchas de futbol y básquet, entre otras cosas. Los niños y niñas dormían en cabañas separadas entre hombres y mujeres, teniendo un máximo de 15 participantes en cada una.
Para todos los integrantes de la Orquesta MUVI, fue la primera vez en vivir una experiencia de este tipo, en un campamento donde pudieron convivir, fortalecer aprendizajes musicales, conocer y hacer amistad con niños y niñas de otros municipios y trabajar para un objetivo particular y en común.
El Encuentro culminó con dos conciertos en un centro cultural muy grande y conocido en San Luis Potosí llamado Centro Cultural Universitario Bicentenario. Se contó con la dirección de un maestro invitado que dirigió a la Orquesta MUVI: Antonio Malavé, director musical y coordinador de la Red Orquestal Río Nuevo en Mexicali.
Tanto el encuentro, como los conciertos dejaron una gran experiencia y aprendizaje en los 75 niños, niñas y adolescentes seleccionados. Pudieron generar y fortalecer un sentido de pertenencia e identidad al Sistema MUVI, se hicieron fuertes lazos de compañerismo y se generó una cohesión social importante entre todos y todas.
MUVI ORCHESTRA MEET
ENGLISH
In November 2017, 75 kids and teenagers coming from six municipalities within the state San Luis Potosí got together for the very first time to form the MUVI Orchestra, a symphonic orchestra made up of selected MUVI System students.
They met on the grounds of camp Berrendos, near San Luis Potosí City, for about a week. The camp has ample fields and is suited for diverse outdoor activities. There is a large swimming pool, a kayaking stream, a mud run, soccer fields, and basketball courts, among other things. The students slept in single-gender cottages of up to 15 occupants each.
For all members of the MUVI Orchestra this had been a first time experience, staying and rehearsing in a camp that fostered conviviality, musical learning, and the chance to make friends with other boys and girls from all over the state, while working on a common goal.
The meet came to an end with two concerts at the Centro Cultural Universitario Bicentenario, a large, well-known venue in the city. Antonio Malavé, musical director and coordinador for the Red Orquestal Río Nuevo, in Mexicali, was guest director for the MUVI Orchestra.
Both the meet and the concerts made for a wonderful learning experience for the 75 selected students. They all were able to strengthen a sense of identity and belonging to the MUVI System, strong friendship ties were made, and important social cohesiveness arose among all.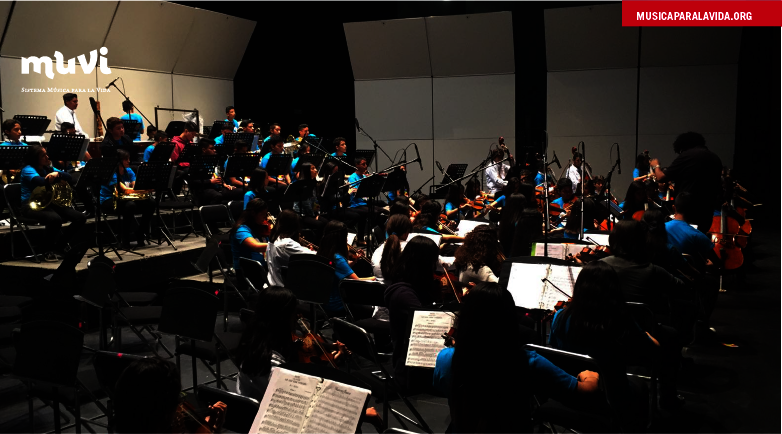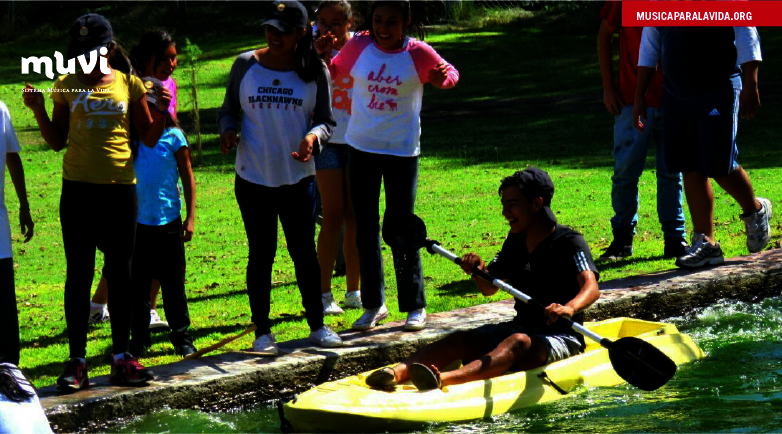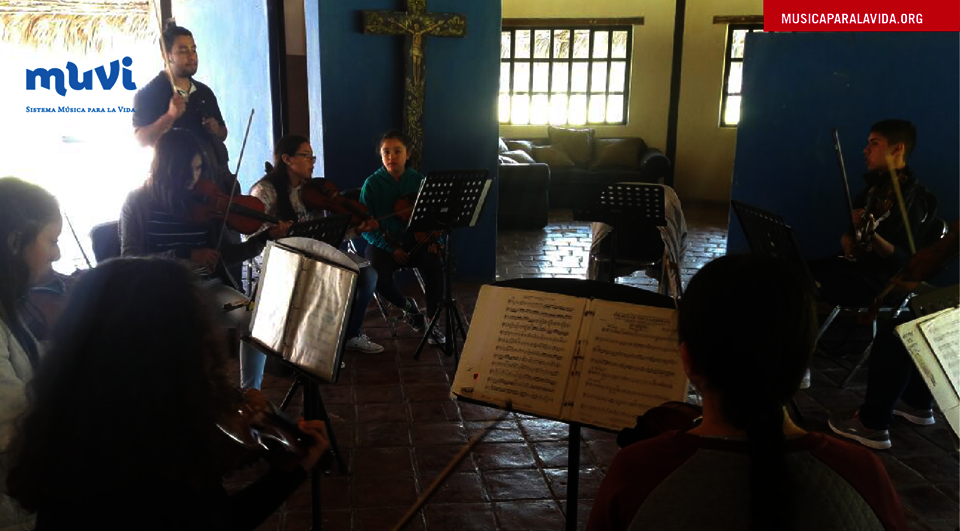 Links: