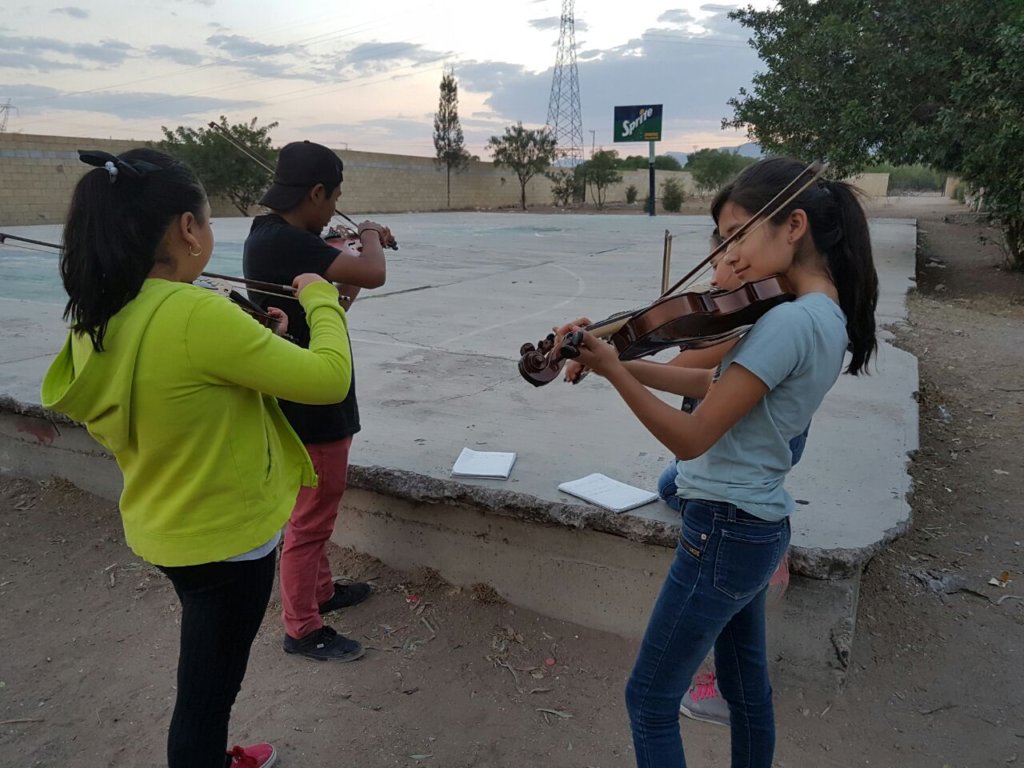 ESPAÑOL
"Música para la Vida" ha impactado en más de 900 niños, niñas y adolescentes de 9 diferentes lugares geográficos en San Luis Potosí, México. A lo largo de este camino de más de 3 años, hemos escuchado tantas significativas historias que nos han puesto la piel de gallina, en donde niños, niñas y padres de familia cambian sus vidas para bien: la música nos ha dado un hermoso regalo que es el crear COMUNIDAD.
Dentro de este camino, estamos muy felices de la apertura de un nuevo núcleo que busca impactar a más de 200 niños, niñas y adolescentes. La característica de este nuevo hogar musical es que se encuentra dentro de la zona urbana periférica, buscando impactar a una población que está altamente segregada, aún con su cercanía con la capital. La poca oferta en educación básica y en actividades culturales o de recreación; la inseguridad debido al narcotráfico y a otros grupos de crímenes organizados o delictivos; así como la cercanía con la penitenciaría estatal, han hecho de "La Pila" un lugar "olvidado" para muchos.
La apuesta por dos agrupaciones musicales comunitarias (un coro y una orquesta sinfónica) ofrece una opción de inserción social en donde niños, niñas y jóvenes desarrollen habilidades musicales, personales y colectivas que beneficien en general a la población de "La Pila".
El núcleo San Luis Sur, en donde arrancó "La Pila", inició en el segundo semestre de 2016, lleva más de 6 meses andando, tiene cerca de 100 niños, niñas y adolescentes inscritos y una planta docente altamente profesional.
Gracias al apoyo de tantas personas, podemos seguir ofreciendo música a más niños, niñas y adolescentes en todo el estado ¡GRACIAS!
ENGLISH
"Música para la Vida" has made an impact in more than 1000 children of different communities of San Luis Potosí, México. Since 2013, we have heard many strong and meaningful stories of the transformation that children and their parents had experienced. Music has giving us a beautiful gift: creating COMMUNITY.
Following this path, we are very happy with the opening of a new orchestra and choir that is searching to impact more than 200 children. This community is "La PIla", a place that is in the urban periphery of San Luis capital. Even tough is near the capital, it is characterized with its huge segregation because of its low basic offer education; very few cultural classes or activities; highly percentage of insecurity because organized crime; and its nearest to the State Penitentiary. All these factors had made of "La Pila", an unknown and unmentionable place of San Luis Potosí.
The bet of a symphonic orchestra and a choir offers a beautiful and promising options of social inclusion in which the youngsters can develop musical, personal and collective abilities that will benefit the hall population of "La Pila".
"La Pila" started on the second semester of 2016, it has more than 6 months playing, with more than 100 children and a staff of highly professional teachers.
Thanks to the support of so many people we can continue to offer music to more youngsters in all the state of San Luis Potosí. Thank you!