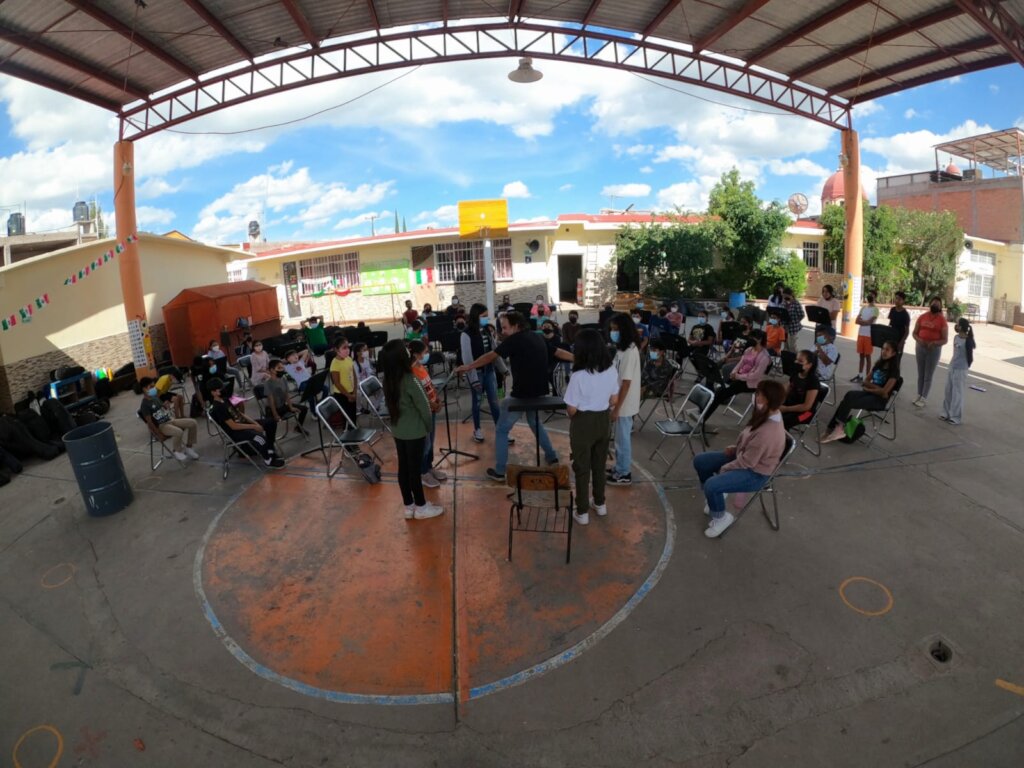 Español
En mayo de 2022 comenzamos con mucha ilusión un núcleo nuevo, éste se ha conformado con más de 200 niños, niñas y adolescentes de la delegación de Villa de Pozos, San Luis Potosí, y sus alrededores.
Comenzamos mostrando lo que es una orquesta sinfónica, los instrumentos, la música que puede tocar y cómo puede sonar la música en ensamble.
Todo esto llevo tiempo, y después de que los alumnos/as eligieron un instrumento y comenzaron las clases, a principios de septiembre fue el primer ensayo "tutti",participando todas las secciones. En este primer ensayo se tocaron algunas notas en sintonía.
Esta experiencia es algo totalmente nuevo para todos los alumnos y alumnas, y a la par de aprender habilidades musicales, hacemos consciencia sobre el trabajo comunitario, la importancia de escuchar al otro y del valor que tiene cada uno en la comunidad.
Aquí radica la importancia de la música colaborativa para generar transformaciones sociales, fortaleciendo los factores protectores y disminuyendo los factores de riesgo psicosociales asociados a la infancia y la juventud.
English
In May 2022 we started with great enthusiasm a new nucleus, this has been formed with more than 200 children and adolescents from the Villa de Pozos delegation, San Luis Potosi, and its surroundings.
We began by showing them what a symphony orchestra is, the instruments, the music they can play and how the music can sound in an ensemble.
All of this took time, and after the students chose an instrument and began classes, in early September was the first "tutti" rehearsal, with all sections participating. In this first rehearsal some notes were played in tune.
This experience is something totally new for all the students, and in addition to learning musical skills, we become aware of community work, the importance of listening to others and the value of each one in the community.
Here lies the importance of collaborative music to generate social transformations, strengthening protective factors and reducing psychosocial risk factors associated with childhood and youth.