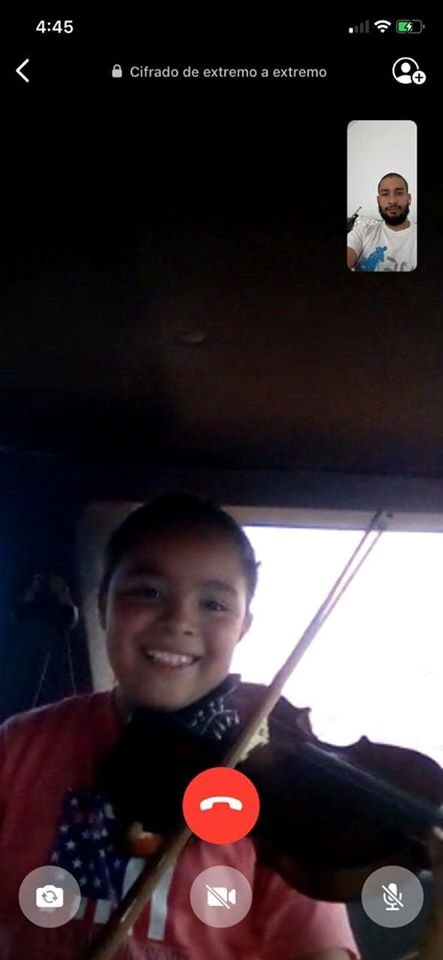 Spanish
Giovanna, alumna de la Orquesta Sinfónica Juvenil de La Pila, tomó su clase de violín en el carro de sus papás. Por la situación difícil que todos estamos viviendo por la pandemia actual, los papás de Giovanna han tenido que moverse fuera de su casa. Sin embargo, esta realidad ha fortalecido la perseverancia y el esfuerzo que Giovanna ha puesto para seguir cambiando al mundo a través de la música.
A todos y todas nos ha tomado de una manera muy inesperada una pandemia que no nos deja salir de nuestras casas, que no nos deja estar tan cercanos los unos con los otros y que no nos deja hacer nuestras cosas como estábamos tan acostumbrados.
Sin embargo, en medio de la incertidumbre y el miedo, surgieron propuestas, se afianzaron proyectos y estamos viviendo una nueva fase de la Fundación Música para la Vida: la educación musical comunitaria a distancia.
Ha sido un reto que aún no hemos superado en su totalidad, pero a través del esfuerzo de todos los maestros y maestros, así como del equipo MUVI, hemos logrado afianzar una educación en línea y una manera de comunicación con los y las alumnos MUVI.
Gracias a tu donativo y apoyo, seguimos esforzándonos para lograr mantener viva la Música y así seguir cambiando al mundo, un músico a la vez.
English
Giovanna, a student in the La Pila Youth Symphony Orchestra, took her violin class in her parents' car. Due to the difficult situation we are all experiencing for the current pandemic, Giovanna's parents have had to move out of their home. However, this reality has strengthened the perseverance and effort that Giovanna has put into continuing to change the world through music.
It has taken all of us in a very unexpected way a pandemic that does not let us leave our homes, that does not allow us to be as close to each other and that does not allow us to do our things as we were so used to.
However, in the midst of uncertainty and fear, proposals emerged, projects were consolidated and we are experiencing a new phase for the Music for Life Foundation: virtual community music education.
It has been a challenge that we have not yet fully overcome, but through the effort of all the teachers, as well as the MUVI team, we have managed to strengthen an online education and a way of communication with the MUVI students.
Thanks to your donation and support, we continue to strive to keep Music alive and thus continue to change the world, one musician at a time.