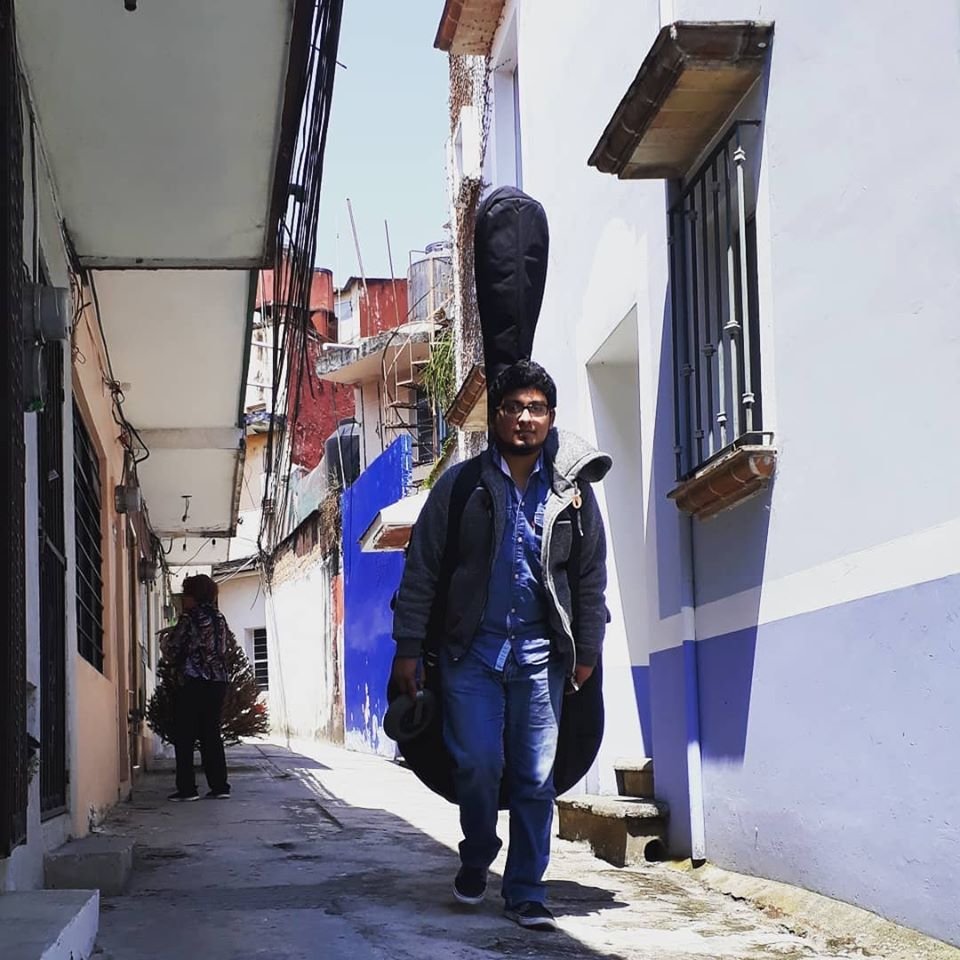 ESPAÑOL
MUVI me ha demostrado claramente que a través del desarrollo humano y social, he podido alcanzar mi gran meta de ser un músico sobresaliente .
La didáctica que se maneja dentro del proyecto fue algo que revolucionó mi experiencia en la música, ya que encaminó el sentido de mis ideas musicales hacia un panorama que trascendía el mundo artístico, brindándome herramientas en lo humano y social; lo que me motivó a seguir mis metas, las cuales logré gracias al apoyo de mis maestros y todo el personal del proyecto.
Dentro de la fundación, tuve la oportunidad de expandir mis horizontes al conocer diversas personas y lugares que ahora forman parte de mí. Esto me ha llevado a estar en diversos proyectos con gente que, aparte de ser excelentes músicos, son también grandes personas y es algo con lo que estaré eternamente agradecido.
Gracias a MUVI he tenido la oportunidad de participar en numerosas orquestas a lo largo del país, como la Orquesta Sinfónica de San Luis Potosí (OSSLP), la Orquesta de las Americas (OA) y como principal de sección en la Orquestra Sinfónica Roszt en Xalapa, Veracruz; donde actualmente estudio en el Centro de Estudios de Jazz de la Universidad Veracruzana (JAZZUV), la cual es considerada como una de las mejores universidades de latinoamérica en su campo. Además, he tenido la oportunidad de tomar clases con diferentes maestros internacionales como Mariana Flores, Aldemar Valentin, Benjamín Harris y Andrzej Dechnik.
MUVI es un programa que impulsa el desarrollo social y humano a través del arte con el fin de generar conciencia en las mentes jóvenes para que sus metas sean más claras y puedan realizarse con el apoyo familiar que en MUVI se vive. Por ello, es un proyecto en el que creo y ha demostrado que somos cada vez más las personas que salimos y estudiamos esta carrera que, tal vez no es tan convencional, pero es simplemente hermosa. Aunque el fin de la fundación no sea propiamente formar músicos profesionales, es una gran alternativa para todo aquel que tenga la inquietud de aprender de este maravilloso estilo de vida, que es la música, sin importar si lo tomas como simple pasatiempo o como la manera en que te expresas y te relacionas con los demás.
MUVI me ha cambiado mi vida.
ENGLISH
MUVI has clearly shown me that through human and social development, I have been able to achieve my great goal of being an outstanding musician.
The didactic that is handled within the project was something that revolutionized my experience in music, since it directed the sense of my musical ideas towards a panorama that transcended the artistic world, giving me extraordinary tools; which motivated me to follow my goals, which I achieved thanks to the support of my teachers and all project staff.
Within the foundation, I had the opportunity to expand my horizons by meeting various people and places that are now part of me. This has led me to be in various projects with people who, apart from being excellent musicians, are also great people and it is something I will be eternally grateful for.
Thanks to MUVI I have had the opportunity to participate in numerous orchestras throughout the country, such as the San Luis Potosí Symphony Orchestra (OSSLP), the Orchestra of the Americas (OA) and as a section principal in the Roszt Symphony Orchestra in Xalapa , Veracruz; where I am currently studying at the Jazz Studies Center of the "Universidad Veracruzana" (JAZZUV), which is considered one of the best Latin American universities in its field. In addition, I have had the opportunity to take classes with different international teachers, such as Mariana Flores, Aldemar Valentin, Benjamin Harris and Andrzej Dechnik.
MUVI is a program that promotes social and human development through art in order to raise awareness in young minds so that their goals are clearer and can be achieved with family support that is lived in MUVI. Therefore, it is a project in which I believe and has shown that we are increasingly the people who go out and study this career that, perhaps, is not so conventional, but it is simply beautiful. Although the purpose of the foundation is not to properly train professional musicians, it is a great alternative for anyone who has the concern to learn from this wonderful lifestyle, which is music, regardless of whether you take it as a simple hobby or as the way in which you express yourself and relate to others.
MUVI has changed my life for good.