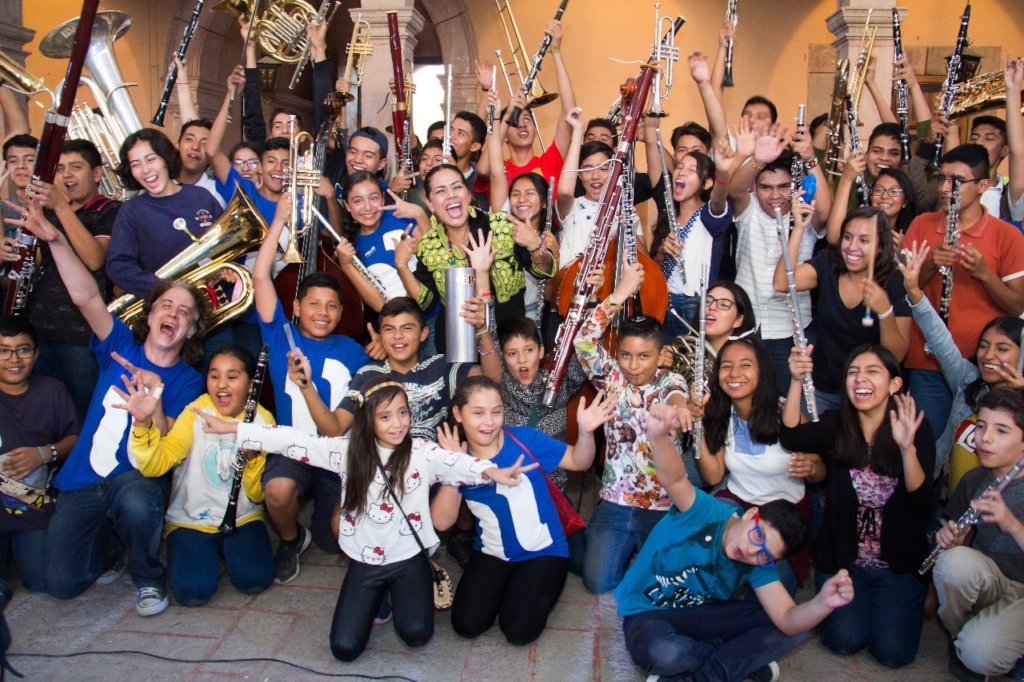 Lila Downs ft. MUVI Symphonic Band rehearsal
Español
El trabajo que hacemos en Música para la Vida cumple 6 años en este 2019. Para nosotros ha sido una experiencia de muchos errores, aciertos, correcciones, aprendizajes y, sobre todo, mucho amor.
Nos hemos dado cuenta que a través del trabajo arduo y constante, hemos obtenido la confianza de muchas personas, empresas e instituciones que han palpado las habilidades musicales obtenidas y los cambios sociales e individuales para una mejor comunidad.
Esto lo confirmamos cuando la compañía musical YAMAHA, nos ofreció realizar un concierto a beneficio con una artista de talle mundial: Lila Downs.
Se acordó que sería un concierto con la Banda Sinfónica MUVI y un grupo de músicos invitados. Desde los ensayos, la preparación, la organización y toda la logística, los niños y niñas participantes tuvieron una experiencia única en su vida. El evento tuvo lleno total y Lila Downs brindó a los niños y niñas del Sistema MUVI un gran cariño y admiración.
Este concierto fue el resultado del trabajo de padres y madres de familia, de los niños y niñas que participaron, de los maestros, del equipo coordinador y de una gran cantidad de gente que cree en nosotros y nos respalda.
Agradecemos de todo corazón a ti, que a través de Global Giving crees en nosotros y sabes que la música tiene todo lo necesario para transformar el mundo.
¡Gracias!
English
The work we do in Music for Life is 6 years old in this 2019. For us it has been an experience of many mistakes, successes, corrections, learning and, above all, a lot of love.
We have realized that through hard and constant work, we have obtained the trust of many people, companies and institutions that have felt the musical skills obtained and the social and individual changes for a better community.
This is confirmed when the music company YAMAHA, offered us to perform a benefit concert with a world-class artist: Lila Downs.
It was a concert with the MUVI Symphonic Band and a group of guest musicians. From rehearsals, preparation, organization and all logistics, the participating children had a unique experience in their lives. The event was full and Lila Downs gave the children of the MUVI System a great affection and admiration.
This concert was the result of the work of fathers and mothers, of the children who participated, of the teachers, of the coordinating team and of a large number of people who believe in us and support us.
We thank you with all our heart, that, through Global Giving, you believe in us and know that music has everything to transform the world.
Thank you!