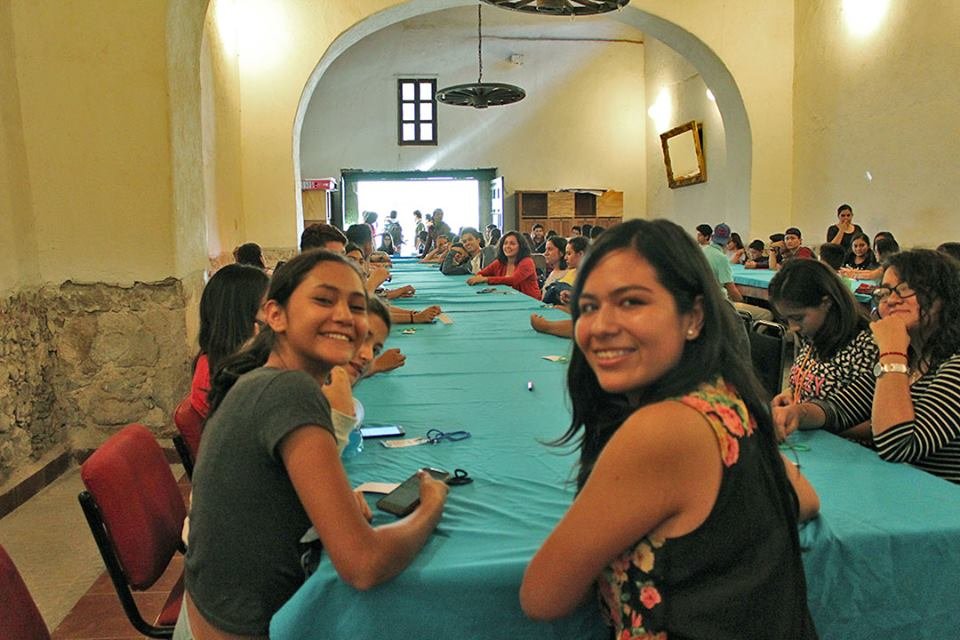 ESPAÑOL
El 13 de julio de 2018, 100 niños, niñas y adolescentes de 7 comunidades de San Luis Potosí se reunieron durante una semana para poder preparar un concierto único, que a todos nos sorprendería.
Después de una preparación ardua, mucho trabajo y horas de ensayo, se seleccionaron 100 niños, niñas y adolescentes de las diferentes agrupaciones del Sistema MUVI, conformando la edición 2018 de la Orquesta MUVI. Estos seleccionados prepararon un repertorio en específico para ser estudiado y ensayado una semana antes del esperado concierto.
El repertorio fue muy variado y el resultado maravilloso, teniendo un lleno total en el Teatro de la Paz, una gran calidad musical y grande sorpresa para todos los asistentes.
Este evento es una motivación y un resultado del trabajo diario que realizan tanto profesores/as, como padres/madres de familia y los alumnos/as de las comunidades.
Para muchos de los participantes, esta fue la primera vez que conocieron la capital potosina y tuvieron la oportunidad de tocar en uno de los teatros más importantes de México.
En la experiencia previa al concierto, los niños y niñas tuvieron la oportunidad de conocerce entre ellos, generar un sentido de pertenencia con el Sistema MUVI, fortalecer habilidades para la vida y los aprendizajes musicales aprendidos durante toda su estancia con MUVI.
El concierto de la Orquesta MUVI 2018 es un pretexto para fortalecer el tejido social en San Luis Potosí, así como una motivación para que los y las participantes sigan teniendo la oportunidad de transformar sus vidas a través de la música.
ENGLISH
On July 13, 2018, 100 children from 7 communities of San Luis Potosí met for a week to prepare a unique concert, which would surprise us all.
After an arduous preparation, a lot of work and hours of rehearsal, 100 children and adolescents from different groups of the MUVI System were selected, forming the 2018 edition of the MUVI Orchestra. These selected, prepared a specific repertoire to be studied and rehearsed a week before the expected concert.
The repertoire was very varied and the result wonderful, having a full house at the "Teatro de la Paz", one of the most important theatres of the country. Great musical quality and great surprise for all the attendees.
This event is a motivation and a result of the daily work done by teachers, parents, and students of the communities.
For many of the participants, this was the first time they met the capital of Potosí and had the opportunity to play in one of the most important theaters in Mexico.
In the pre-concert experience, the children had the opportunity to get to know each other, generate a sense of belonging with the MUVI System, strengthen life skills and musical learnings learned throughout their stay with MUVI.
The concert of the Orchestra MUVI 2018 is a pretext to strengthen the social fabric in San Luis Potosí, as well as a motivation for the participants to continue having the opportunity to transform their lives through music.